Back to all posts
Posted on
Bison Tales - April 23, 2021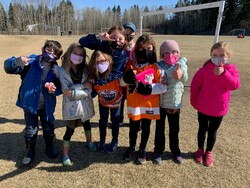 This month offers us an opportunity to appreciate all of the amazing volunteers who help to make our school a special place. Although opportunities to physically come into the school have not be available this year, it hasn't stopped our amazing parents and guardians from being involved!
You might have noticed the many fundraisers taking place this year from bottle drives, pizza kits, plant sales, reusable bags sales, to Fundscrip gift cards! Behind each one of these fundraisers you will find a small army of dedicated parents who work around the clock to gather the funds we need to make dreams a reality.
I would like to take a moment to acknowledge the hard work of our four amazing parent groups at Ardrossan Elementary. Every second Tuesday of the month, our school council meets to discuss topics that are impacting students and learning at school. This group of 12-15 parents share their ideas, suggestions, and great sense of humour with Mrs. Harding and I to help make our school the best place for kids. 
Our Ardrossan Elementary Parent Support Association (AEPSA) meets right after school council where we talk about how we can raise money to support initiatives at the school. AEPSA has helped us to purchase decodable books and Leader in Me data binders. They have sponsored virtual field trips for all of our classes this year as well. And they did all of this while still managing to raise over $100,000 for our matching playground enhancement grant! This small but mighty group writes grants, canvases local businesses for donations and helps to keep the playground vision alive!
Our Canadian Parent for French (CPF) group meets once a month to discuss ways to support the French Immersion program. They don't only focus on our French Immersion students either! This group talks about how to promote French cultural events for all of our students to make us feel like we are part of a larger global community! 
Finally, our amazing Hot Lunch parent group is working hard to ensure that our kids have access to affordable, nutritious, and delicious home cooked meals at school. They meet regularly to determine menus and to ensure that everything is running smoothly with ordering and payment. They partner regularly with the other parent groups and offer support to their initiatives.
It is through the hard work and dedication of our amazing parent volunteers that our school is a success! Truly, Ardrossan parents are inspiring! We could not do it without you!
Great Happens Here!
Helene Hewitt & Kyla Harding
Principal & Assistant Principal
WEEK AT A GLANCE
| | |
| --- | --- |
| Monday | A quiet week of learning! |
| Tuesday | |
| Wednesday | |
| Thursday | |
| Friday | Bison Tales published online |
Action
Tidbits from the Lunchbox
Leadership Ledger - Practicing Habit 5 
Opportunity
Save the Date - Kindergarten Orientation Evening May 19
Information
Counselor's Corner
Reading Tip of the Week
Parents Make the Difference
ACTION
Tidbits from the Lunchbox
Thank you to everyone for your patience while we credited your accounts last week. Now that all credits have been received please ensure your accounts are paid in full for your May orders. Any unpaid orders will be cancelled tomorrow. 
Reminder lunch service resumes Tuesday, April 27!
Leadership Ledger - Practicing Habit 5 at Home
This month, we are learning all about Habit 5: Seek First To Understand Then To Be Understood. This habit gives us the opportunity to practice our listening skills as well as out ability to suspend our judgments or assumptions. When we listen with our hearts, we try to understand what someone is saying with their words and actions to truly walk in their shoes.
We can all show Habit 5 by:
Listening to other people's ideas and feelings;
Trying to see things from their viewpoints;
Listening to other without interrupting;
Voicing ideas with confidence;
Looking people in the eyes when talking. (Unless this is culturally unacceptable. Some communities view direct eye-contact as a sign of disrespect!)
Would you like to practice this skill as a family? Click here for a fun family Habit 5 activity that you can do at home!
OPPORTUNITY
Save the Date - Kindergarten Orientation Evening May 19
Our virtual Kindergarten information evening will take place on May 19 at 6 p.m. Keep reading the Tales for more details in the next few weeks. 2021-2022 Kindergarten families will receive an email with links to the virtual event as well as other information that will assist you in feeling prepared for starting off a new year at school!
INFORMATION
Counselor's Corner
Spring is here! This time of year brings many people a sense of new beginnings and renewed energy. I know many of our students have been sharing so much about what they're excited about for the spring/summer and how much they are looking forward to the months ahead. With that being said, this year has not been an easy year for families and kids and selfcare, as well as reaching out for help, remains as important as ever. Below are some offerings from Family and Community Services focused on mindfulness, self-esteem and support  for parents and caregivers that you may be interested in. 
As always, please reach out to me at the school if you have any questions or are looking for support in any capacity. 
Monday, April 26 from 6 P.M. TO 7:30 P.M.
For: Adults, seniors, & older youth
Cost: Free
Where: Online
Learn about what self esteem is, why it is important, and how to foster it in yourself and your children/teens. Understand the role that self esteem plays in healthy development and ways to support this through conversational skills.
Register at strathcona.ca/adultlearning or call (780) 464-4044
Dates: May 3, 10, 17, 2021 from 5 p.m. to 5:30 p.m.
For: children and parents/caregivers (grades 1-3)
Do you ever feel big emotions like anger, frustration or worry? Do you ever feel hyper or silly? We all do. Find out what's happening in our bodies when we feel these emotions and learn some fun techniques to calm your body and brain down. Register at https://sclibrary.ca/calendar
Dates: May 19, 26, June 2, 9 from 6:30 p.m. to 7:30 p.m. 
For: Anyone with children/youth in their lives
Where: Online
Taking time for yourself is not always easy, especially when caring for others. When we are at our best, we can give others the best version of ourselves. Join us to journey through the book "The Scaffold Effect" and come together with others to:
find meaningful connections
practice self-compassion
reflect, learn, and share about the experience of caregiving
Register here or contact 780-464-4044. Participants will be notified by email the date and time they can pick up a book.
Madison Bashaw, AEL School Counselor
Reading Tip of the Week - Why Reading Aloud is so Important!
Taken from: Reading Rockets

Reading aloud is one of the most important things parents and teachers can do with children. Reading aloud builds many important foundational skills, introduces vocabulary, provides a model of fluent, expressive reading, and helps children recognize what reading for pleasure is all about.
To learn more about why reading to your child is so important in this short video!
Parents Make the Difference
Here is this week's article for parents and caregivers:
Do you help your child deal with disappointment?
All children face disappointments. Are you helping your child learn to deal with them? Answer yes or no to each question below to find out:
Do you help your child understand what can't be changed and what can? For example, "You can't change the fact that it is raining, but you can change your plans."
Do you encourage your child to choose a positive response when the unexpected happens?
Do you point out what your child can learn from mistakes? "Next time, you'll start studying a few days in advance and earn a better grade."
Do you have this rule: You can feel disappointed, but you can't sulk? Your child is entitled to her feelings, but she can also control her actions.
Do you help your child figure out solutions on her own—instead of trying to fix problems for her?
How well are you doing?
If you answered mostly yes, you're teaching your child how to cope when things don't go her way. For no answers, try those ideas.
Reprinted with permission from the April 2021 issue of Parents make the difference!® (Elementary School Edition) newsletter. Copyright © 2021 The Parent Institute®, a division of PaperClip Media, Inc.