Back to all posts
Posted on
Bison Tales - October 9, 2020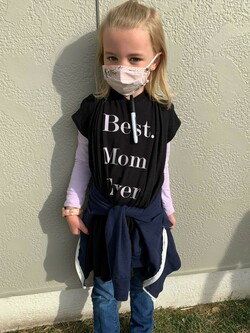 What a fun week! We spent time reading, thinking about heroes and even dressing up as one! Frederick the Bison visited many classrooms with a good book for the class to read. We listened to read alouds each day in the morning announcements. Read In Week was a blast!
Thank you to those families who sent us cards for the Frederickson family. We will continue to collect cards, letters and well wishes throughout the month of October. Send it with your child and we will make sure it is delivered to the family.
As we head into the Thanksgiving weekend, I would like to take a moment to consider all that I am thankful for. I am thankful that I get to be a part of the lives of so many amazing children. I am grateful that I can watch students light up as they read for the first time! I am humbled by the drive and talent of our staff who believe that each and every child deserves to learn and experience success. I am thankful to this community that never stops caring for one another through thick and thin. Most importantly, I grateful that I get to enjoy each and every day with those whom I love most.
Here's wishing you and your family a restful and rejuvenating long weekend.
Helene Hewitt & Kyla Harding
Principal & Assistant Principal
Great Happens Here
TABLE OF CONTENTS
Week At a Glance
Action
Remember to use the Covid-19 Screening Tool Everyday!
Getting Ready for Halloween
School Fees: Now Available
Opportunity
Tidbits from the LunchBox
Upcoming Meetings for Ardrossan Parent Groups
Family Reading Picture Contest
Information
What Do We Do on Professional Learning Days?
Reading Tip of the Week
Parents Make the Difference 
WEEK AT A GLANCE
Monday

Thanksgiving Day! No school!

Tuesday

Picture Re-takes
Virtual School Council Meeting @ 9:30 a.m. 
Virtual AEPSA (fundraising group) Meeting @ 10:30 a.m.

Wednesday

Picture Re-takes for alternate ECS

Thursday
Friday
ACTION
Remember to Use the Covid-19 Screening Tool Everyday!
Thank you for all you are doing to keep our community safe during these tricky times. We appreciate how you send your children to school with clean masks and a plucky attitude!
As cases are on the rise in Strathcona County and Alberta, we know it will be important to stay on top of our good choices and safe actions. Although we might be tempted to relax, it is essential that we continue to practice good hand hygiene, coughing etiquette, and proper mask wearing. 
We also appreciate you taking time each morning to assess your child before sending them to school. Remember to refer to this handy reference from Elk Island Public Schools called EIPS Stay at Home Guide for Parents.
Getting Ready for Halloween
It's that spooky time of year when our little ghosts and goblins get ready to come to school! Here are a few ideas to keep in mind for our Halloween celebrations here at Ardrossan Elementary to keep everyone safe and following the Alberta Health and Safety Guidelines:
Students will be wearing masks - consider costumes that can incorporate those masks cleverly into the design!
In order to maintain physical distancing guidelines, staff are not able to assist students with changing into costumes or putting on make-up. We encourage you to send your child to school ready to go!
As visitors are not able to join us in school and we need to avoid large gatherings, we are unable to host our traditional Halloween parade this year. We know that the parade is a fun experience and so we will be filming and taking pictures of the costumes in each class for a video montage which we will post on the school website in the afternoon on October 31! 
We are unable to serve any shared food items - teachers are hard at work thinking of fun Halloween activities that can still make for a great time but that don't involve shared items or snacks!
School fees: Now available
School fee information for the 2020-21 school year is now posted on the PowerSchool Parent Portal. When you log on, you'll notice the fee schedule is different from previous years. Instead of a fee based on the entire year, fees are charged on a quarterly basis.
The fee schedule change accommodates students switching from out-of-school learning to in-school learning; the four-semester system in place at some schools, and possible fee adjustments if the province decides to transition to Scenario 2—partial return to school—or Scenario 3—the suspension of in-school classes. Fees for kits or equipment kept by the student are charged in full at the start of the course. 
Each quarter, you'll receive an email notification letting you know fees are posted on the PowerSchool Parent Portal. To access your fee information, go to "Student Fees" on PowerSchool. There you can view your fees and pay online using Visa, MasterCard or INTERAC Online—when available from your financial institution. All fees are due within 14 days of being posted. NOTE: School Fees apply to in-school learners only.
If circumstances exist where you are unable to pay your fees, you can apply to have fees waived by submitting an Application for a Waiver of Fees. The deadline is Dec. 15, 2020—if new to EIPS, the deadline is the latter of Dec. 15, 2020, or 45 days after registration.
For more information about school fees, waivers and payment deadlines, visit eips.ca and Ardrossan Elementary Fees Website Information. Alternatively, contact our school business manager, Coleen Pearson at 780-922-2066 or via email at coleen.pearson@eips.ca.
OPPORTUNITY
Tidbits from the Lunchbox
November's Hot Lunch Menu & Little Caesars Pizza Kit fundraiser is now open for ordering! The order deadline is October 15. The delivery of Pizza Kits is booked for November 3, 3pm-7pm. www.aeslunchbox.com
Kindergarten classes you can now order for November Hot Lunch. Use Access code AEHL for registration. If you have any questions email us at support@aeslunchbox.com
To avoid payments of cash or cheque we are offering e-transfer (auto deposit is now set up) and Pay-Pal payment options.
We are not suppling cutlery this year due to the Covid-19 re-entry regulations, so please ensure you are sending reusable cutlery with your children to school each day.
If your child is going to be away or you wish your child's lunch to be given to a sibling please email us as soon as possible at info@aeslunchbox.com with details. We cannot guarantee our kitchen staff will read Facebook messages or emails sent after 10 am. Also if your child will be absent for an extended period for Covid-19 recommendations, we will cancel and start crediting orders 24 hours after receiving written notice. We do require you to advise us to restart lunch order for them.
Thank you to all staff and students who are making the delivery process easier.
The LunchBox Team
Upcoming Meetings for Ardrossan Parent Groups
Thank you to all of the parents who joined us in our virtual School Council and Ardrossan Elementary Parent Support Association (AEPSA) meetings last month.
Our next meetings are:
School Council - Tuesday, October 13 at 9:30 a.m. on Google Meet
AEPSA - Tuesday, October 13 at 10:30 a.m. on Google Meet
Canadian Parents for French - October 20 at 10 a.m. on Google Meet
If you would like to attend either of these meetings, please fill out this form. We will use the information to send you a link to join the online meeting using the Google Hangouts Meet platform 15 minutes before the meeting begins. 
We will also post the meeting link on the homepage of our website 15 minutes before the meeting begins. We hope to see you there! 
Family Reading Picture Contest
Thank you to all of the families who sent us there read around Ardrossan pictures! We have entered you into our prize draw! 
If you have yet to send in your picture, it is not too late! Take a picture of you and your family reading somewhere in Ardrossan and send it to general.ael@eips.ca for your chance to win a Chapters gift card! We will accept entries until Thursday, October 15 and announce the winners in next week's Bison Tales! Get reading!
INFORMATION
What Do We Do on Professional Learning Days?
What are teachers and educational assistants up to on professional learning days? What are they learning about anyway? 
As part of our School Education Plan goal, our school is committed to ensuring that all of our students become excellent readers. We have been hard at work collecting reading data in the month of September to better understand where students might have gaps in their reading skills, especially after such a long break in their learning due to school closures in March!
This Friday, our staff spent the morning looking at our school reading data in order to understand how to best help our students to become even better readers. We were pleased to welcome Dr. George Georgiou from the University of Alberta who worked with our teams to develop intervention plans and to identify best instructional practices that are in line with the science of reading. 
In the afternoon, our teams continued to work on developing reading improvement plans for each grade level followed by time learning how to use our Brightspace software. It was a wonderful day of learning for all!
Reading Tip of the Week - Phonemic Awareness
Did you know that in order to read, you need to learn skills in five areas? These are called the Five Pillars of Reading. Specifically, good readers have skills in:
Phonemic Awareness - hearing, identifying and manipulating the sounds in spoken words.
Phonics - connecting the sounds in spoken words to letters and letter patterns.
Fluency - reading in a smooth and connected way.
Vocabulary - knowing a variety of words about many topics so that when you sound it out you can recognize it!
Comprehension - understanding the meaning of the text you are reading.
This month we will be sharing information with you about phonemic awareness so that you can support your child in developing this skill at home. 
Here is a great video by The Simple Teachers about how you can practice this skill. Try it out the next time you are on a long car ride or when you are waiting in line at the store!
Parents Make the Difference
Check out this week's article to support parents in helping their child to learn and grow:
Promote independence with a checklist of responsibilities
Whether it's keeping track of assignments or taking care of school property, responsible behavior is a must for school success. And the best way to teach your child responsibility is to give her responsibilities.
Sit down with your child and make a list of tasks she's ready to handle on her own. Then make a checklist of everything you expect her to do. Agree on small rewards for a job well done, and consequences for times your child shirks responsibility.
Here is a starter checklist of responsibilities you can adapt:
Going to bed on time.
Getting up on time.
Fixing breakfast.
Completing homework.
Maintaining grades.
Getting along with siblings.
Keeping room clean.
Completing assigned chores.
Reading at least 15 minutes a day.
Taking care of personal hygiene.
Feeding/caring for pets.
Limiting recreational screen time.
Reprinted with permission from the October 2020 issue of Parents make the difference!® (Elementary School Edition) newsletter. Copyright © 2020 The Parent Institute®, a division of PaperClip Media, Inc.