Back to all posts
Posted on
An Amazing First Day!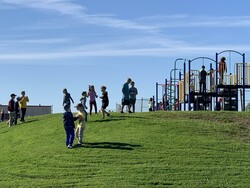 What a difference a year can make!
We had such a smooth start up this week. We were thrilled to see the smiling faces, contagious laughter and boundless energy of our students!
We are grateful to work with such loving and caring Bison families as we begin this new school year.
Thank you for all you do to prepare your children for school and for sending us your best and brightest!
Here's to another great year at Ardrossan! Great Happens Here!
Love,
Your Ardrossan Elementary Staff