Back to all posts
Posted on
Bison Tales - December 13, 2019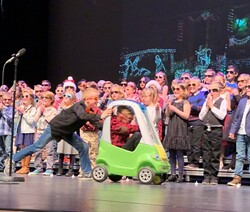 The holiday season is an important time of year. It is a time for us to gather together and spend time with those we love. It is a time to remember those who are with us both in our day to day lives as well as those who live on in our hearts and memories. 
At this time of year, I am reminded of something that Mr. Frederickson taught us. The importance of traditions. Mr. Frederickson had many traditions that he upheld every year, such as placing his singing birthday bear on a student's desk on their special day, or the way he would wear a tie on Tuesday or a Fedora on Friday. He had traditions he built with friends such as going out for a Friday coffee at lunch or cooking a thank you breakfast for all staff on the last two days of school.
He seemed to understand that traditions are those shared experiences that draw us together. They provide us with a feeling of belonging, a way to connect to each other as human beings. 
Thank you to the Bison community for sharing in some of our Ardrossan traditions such as our amazing set of Christmas concerts last night. Seeing students in their holiday best, proudly singing, dancing, and showing off to a crowd of loved ones is probably one of my favourite traditions!
Thank you to our phenomenal music team, Mrs. Pretzlaff and Mrs. Robertson for their leadership and the many hours they spent in preparing such an superb event. Thank you to our students who took it seriously and performed like professionals. Finally, thank you to our entire staff for the many rehearsals and flexible schedules that were needed to make such a wonderful event possible.
In watching our community come together last night, I realized that generosity and kindness are also traditions at Ardrossan. Aren't we lucky to be a part of that? Great does happen here.
Helene Hewitt
Acting Principal
WEEK AT A GLANCE
Monday

Art Club for Gr. 3 at lunch
Cute Thing Club Team 1 at lunch
Jr. Art Club at lunch
Library closed all week

Tuesday

Kindergarten Christmas Concert @ 9:30 in the gym
Art Club 3, 4, 5 & 6 @ lunch recess

Wednesday

No Kindergarten students today
Caroling in the gym with AJS band @ 9:30 a.m.
Sign Club in first recess
Card Club & Running Club at lunch

Thursday

Caroling in the gym @ 9:30 a.m.
Ugly Christmas Sweater day
French Movie in the gym after lunch
Little Bisons Club & Green Team @ lunch

Friday

Grades 4-6 ski trip
Caroling in the gym @ 9:30 a.m.
Grade 2 Minute to Win It in the gym in the afternoon
Games Club, LEGO/Makerspace Club & lunch recess
Bison Tales published online
Action
Buy a Purdy's Lolly to Support French Immersion
Lost and Found
Opportunity
Christmas Caroling - Come and Sing with Us!
Parents Make the Difference
Information
Thank Yous & Kuddos
Leader on the Ledge
Giving Tree a Huge Success
ACTION
Buy a Purdy's Lolly to Support French Immersion
Our chocolate lolly sale is a huge success! We sold many boxes during last night's concert. Don't worry, if you missed the sale it is not too late to get your Purdy's chocolate fix!
Our lolly sale will take place during the last week before the Christmas Break. Send your child with a twoonie to school or get one for everyone in the family! They make great stocking stuffers and sales support the Canadian Parents for French Ardrossan Chapter for events such as Carnaval. 
We will sell lollies on:
Tuesday - Kindergarten Christmas concert @ 9 a.m.
Wednesday - Lunch recess
Friday - Afternoon recess
If you have any questions please email ardrossancpf@gmail.com.
Lost and Found
Have you had a chance to peek in our Lost and Found bins? We have many mitts, hats, coats, water bottles and other assorted items that have been lost in the first part of the school year.
Teachers will have an opportunity to walk classes by the items that will be laid out on display this upcoming week. We encourage you to pop in and take a look for missing items.
Any items that are left in our bins at the end of the day on Friday, December 20 will be bagged up and donated to a charity over the Christmas Break.
OPPORTUNITY
Christmas Caroling - Come and Sing with Us!
Do you love Christmas carols and holiday songs? Join us on December 18, 19 and 20 @ 9:30 a.m. in our gym to sing carols! Everyone is welcome to join us and get into the holiday spirit!
Ardrossan Junior Senior High school jazz band will be joining us on December 18 to play some tunes and the other days will be our school singing on our own. We hope to see you there!
Parents Make the Difference
Check out this week's article to support parents in helping their child to learn and grow:
Don't Forget to Celebrate Your Child's Achievements
INFORMATION
Thank Yous and Kuddos!
We wanted to share our heartfelt gratitude for the many amazing things that happen in our building due to the generosity of our parent community!
Thank you to Anne Deslauriers for making and donating the snazzy superhero candy jars and chocolate bags for the dance. We also are so thankful to all of the parents who ran the concession and to Dawn Quigg, our amazing DJ! Thanks to Val Ulliac and her team of superheros for organizing the dance and to Ady Arbuckle and the Hot Lunch parents for making popcorn, cotton candy and other assorted goodies! 
Thank you to Connie Hamelin and the Canadian Parents for French (CPF) volunteers who have been selling the Purdy's Chocolate Lollies as a fundraiser for Ardrossan CPF. 
Thank you to Carolyn VanKleek for providing us with beautiful graphic designs to help us to advertise the events taking place in the school.
Thank you to the Hot Lunch parents for providing free healthy snacks like oranges, once a month to support healthy lifestyle choices. We are also thankful to them for their support of our Apple Leaders Club and our Grade 6 sports tournaments. 
Speaking of food and generosity, we are extremely grateful to this community for the meal train that was set up to support the Frederickson family as well as the Go Fund Me page. Our community was able to raise $5800 for the family to aid them in this difficult transition time.
Finally, thank you to the Ardrossan Elementary Parent Support Association under the leadership of JP Grebenc for supporting all of our student leadership clubs and other school activities.
You make a difference for our kids! 
Leader on the Ledge
Have you heard about the Leader on the Ledge? At this time of year, there is a cute little Gnome who hides all over the school. He is looking for students to display the 7 Habits of Happy Kids. 
If a student finds him, they must complete an act of kindness such as helping someone, complimenting someone or sharing with someone. When the act of kindness is complete, they bring the Leader on the Ledge to the office for a treat. 
Congratulations to all of the students who have successfully found him this month! 
Giving Tree a Huge Success - Citizenship in Action!
Once again, the generosity of this community shines as we wrapped up our annual Giving Tree event. Students and families donated many much needed items such as toques, mitts, gloves, food, and personal items to the Strathcona Christmas Bureau.
We were so happy to send out stacks of nicely packed boxes today and our hearts are warmed to know that local families in need will have support. What a way to celebrate the spirit of the holiday through giving!