Back to all posts
Posted on
Welcome to Bison Tales - Our Weekly Blog!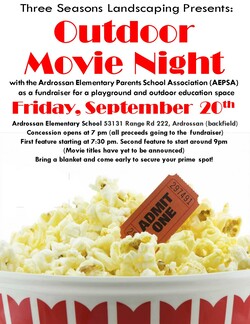 Bison Tales - September 6, 2019
Welcome back to another exciting year at Ardrossan Elementary!
We were thrilled to see those smiling faces on the first day of school! We were so proud of our entire community for working together to ensure that our students arrived safely and were able to easily find their classrooms and teachers. Thank you to all parents and guardians for following our drop-off guidelines. Your support made the first day a success for all!
This year we will be trying something new in order to communicate regularly with families. Each Friday afternoon, we will be posting our Bison Tales Blog. The Bison Tales blog post will replace our traditional Monthly Update and give a quick snapshot of what is happening in the upcoming week. 
If you would like to add anything to our Bison Tales Blog, please contact me: helene.hewitt@eips.ca and we'll do our best to include it here.
As our impressive Grade 1 Leaders taught us this morning in our first assembly, we follow the 7 Habits of Happy Kids at Ardrossan Elementary. This month we will be focusing on Habit 1: Be Proactive. Habit 1 is the key to all of the other habits; that's why it comes first. Be Proactive says, "I am in charge of my own life. I am responsible for whether I am happy or sad. I can choose how I react to other people or situations. I am in the driver's seat."
For some great ideas of activities you can do at home to practice Habit 1, take a peek at our Leader in Me Parent Handbook. 
We hope that this year brings joy, happiness and a love of learning for all!
Great Happens Here!
Table of Contents
Week At a Glance
Action
Sync the school calendar to your calendar
Meet the Staff - Tuesday, September 10
School Council/AEPSA Meetings - Tuesday, September 10
Pay School Fees Online!
Opportunity 
Ardrossan Movie Night
Tidbits from the LunchBox
Caregiver Education Series
Girl Guides in Ardrossan
Information
Enhancing Literacy & Numeracy
Quick Facts: video surveillance
EIPS Launches New Cellphone Policy
WEEK AT A GLANCE
Monday

First Monday of the school year!

Tuesday

Meet the Staff @ 6 p.m.
School Council Meeting @ 7 p.m.
Ardrossan Elementary Parent Support Association (AEPSA) Meeting @ 8 p.m.

Wednesday
Thursday

Emergency Evacuation Drill taking place in the afternoon 

Friday

Bison Tales posted by 3 p.m.
ACTION
Sync the School Calendar to Your Calendar
Did you know you can sync the school calendar to your own calendar? You can. Simply, visit our calendar page and click on one of the following calendar options you want to subscribe to:
Add to Google Calendar: Google calendar
Subscribe to Calendar: Outlook
Download iCal: Apple calendar
NOTE: Options are located above the calendar.
Once you click on the calendar option you want to subscribe to, follow the instructions. Within seconds, your calendar will contain all of Ardrossan Elementary's important dates including holidays, school-closures days, planned activities, events and more.
Meet the Staff Evening September 10
You are invited to join us on Tuesday, September 10 from 6-7 p.m. for our annual Meet the Staff evening. Meet the teacher, tour the school, and take a moment to see what kinds of activities you might like to support. Join a parent group like our School Council, our Hot Lunch Parent group, our Canadian Parents for French Chapter, or the Ardrossan Elementary Parent Support Association (AEPSA). 
Annual General Meetings for Parent Groups - September 10 @ 7 p.m.
Did you know that we have an amazing group of parents at Ardrossan Elementary? They organize fundraisers and special events like school dances, movie nights, Galaxyland events. They also create exciting menus and organize the delivery for hot lunches almost every day of the week. They promote our French Immersion program and provide cultural activities like Carnaval. Would you like to get involved? 
Please come out and join us for a School Council meeting after Meet the Staff on Tuesday, September 10 at 7 p.m. We will follow that meeting with an AEPSA meeting at 8 p.m. We invite all to come out and volunteer in our parent groups!
Pay School Fees Online!

School fee information for the 2019-20 school year is expected to be posted on the PowerSchool Parent Portal by late September. All fees are due within 30 days of being posted. To access your fee information, simply log in to the PowerSchool Parent Portal and go to "Student Fees." There you can view your fees and pay online using Visa, MasterCard or INTERAC Online—when available from your financial institution.
Don't forget to log in to the PowerSchool Parent Portal regularly throughout the year. Fees are often added to your child's account to cover the cost of certain school activities such as field trips, class projects, athletic-team fees and more. 
If circumstances exist where you are unable to pay your student fees, you can apply to have fees waived by submitting an Application for a Waiver of Fees. The application deadline is Dec. 15, 2019.
For more information about school fees, waivers and payment deadlines visit eips.ca/schools/fees. Alternatively, contact Leanne Tachuk, Business Manager at Ardrossan Elementary at 780-922-2066.
OPPORTUNITY
Ardrossan Movie Night - September 20
Do you love movies? Do you love the great outdoors? Why not combine both together! Three Seasons Landscaping, a local company owned by one of our Ardrossan families, in partnership with Ardrossan Elementary Parent Support Association (AEPSA) and Elk Island Public Schools is hosting a family movie night in the field outside the school on September 20. 
Join us for a double-feature with the first family friendly movie starting at 7:30 p.m. followed by a second family feature at 9 p.m. 
AEPSA will be offering a concession beginning at 7 p.m. so that you can stock up on delicious treats before the movies start! All monies raised will support the development of our playground and outdoor education spaces. 
Bring a blanket and come early to get a great spot!
Tidbits from the LunchBox 
Welcome back Ardrossan Elementary Students and Parents!

On September 13, to thank everyone for their ongoing support of our Hot Lunch program, we will be offering a free Pancake Breakfast. You must register and order online to receive! (Kindergarten classes will be able to order for the October Hot Lunch Menu)
By now you all should have received the 2019 Hot Lunch Flyer and Volunteer forms. Deadline for September Hot Lunch orders and payments is September 6th (at midnight). Don't be late! No late payments will be accepted. Please send your volunteer forms back to your teachers or deposit into the Hot Lunch Mailbox.
October 2019 ordering will commence on Sept 10th and will close Sept 19th. Don't procrastinate!
Volunteer credits are back again this year! $1.00 for every class you distribute to! Make sure to let your class rep know if you can deliver.
Please email questions to info@aeslunchbox.com
Caregiver Education Series
The Division, in partnership with Alberta Health Services and Elk Island Catholic Schools, is hosting a series of caregiver information sessions focused on ways to support students' mental health. The sessions are free and geared toward parents, caregivers, teachers and community members who want to learn more about challenges impacting children and adolescents. This year, session topics include anxiety, ADHD, depression, self-harm, technology, teens and teaching leadership skills, and more.
Visit the Division calendar to see all scheduled caregiver sessions.
Girl Guides in Ardrossan
Join Guiding in Ardrossan! Girls ages 5-17 are welcome. Girl Guides is an all-access pass to unlimited adventures, countless confidence-building moments and ready-for-anything skills. Guiding is where girls shine as they take the lead and explore new challenges designed just for them – all with the support of girls and women who cheer them on every step of the way. It's all part of our formula for empowering every girl to be everything she wants to be. For more information call or text Sarah 780-691-3023
INFORMATION
Enhancing Literacy and Numeracy
As part of Elk Island Public Schools' (EIPS) ongoing efforts to enhance the literacy and numeracy of students in all grade levels, the Division is once again administering the STAR 360 and Math Intervention/Programming Instrument (MIPI) assessment tools in the 2019-20 school year. The tools focus on literacy and numeracy, are digitally based and offer an opportunity for students to demonstrate their learning. The goal: To provide timely information to teachers, help enhance classroom instruction and ensure student learning needs are identified.
In September and May, EIPS students in grades 1 through 12 will complete the STAR 360 assessment, which evaluates reading comprehension. The assessment takes approximately 20 minutes and is administered on a digital device. Also, in September, students in grades 2 through 10 will complete the MIPI assessment, which is a mathematic screening tool used to inform teachers about a student's math skills. For students in grades 7 through 10, the MIPI takes approximately 50 minutes, and for students in grades 2 through 6 it takes approximately 20 minutes. The results offer the teacher a clearer picture of a student's learning needs and help determine if subsequent instructional planning is required.
The scores of the assessments aren't used toward a student's grade, and there is no need to study ahead of time. The tools simply provide the teacher with information to better understand where each student is in terms of reading comprehension and mathematic ability. If, after analyzing the results, it's determined a student can benefit from extra support, the teacher will contact the family to discuss possible support strategies.
For more information about the Division's STAR 360 and MIPI assessment tools, contact EIPS Supports for Students at 780-464-3477.
Quick Facts: Video Surveillance
Did you know each EIPS bus is equipped with video surveillance? Video surveillance and equipment helps:
ensure the safety of all students, drivers and property; and
discourage destructive acts.
On a regular basis, EIPS Student Transportation reviews the video recordings, in accordance with the Freedom of Information and Protection of Privacy Act (FOIP). The recordings assist the department with monitoring student and driver conduct and may be used as evidence in a disciplinary matter.
For more information about the collection, use and disclosure of personal information, contact the EIPS FOIP Co-ordinator at 780-464-3477.
EIPS Launches New Cellphone Policy
Elk Island Public Schools (EIPS) Board of Trustees has approved a new policy regarding cellphones. Policy 24, Personal Communication Devices outlines how students and staff use cellphones and personal devices within EIPS schools. The goal: To ensure all students use technology responsibly and develop skills in digital citizenship.
To develop the policy, the Board undertook a comprehensive review of the Division's existing procedures and practices used to oversee the use of student-owned technology in the classroom. It also conducted extensive public consultations with students, teachers, school administrators and EIPS families. Overall, the feedback was invaluable and provided a clear picture of how to best manage the use of these devices.
Policy highlights:
Students in Kindergarten to Grade 6: No access to cellphones or personal devices during the school day, including during breaks and the lunch hour—the only exception, students with a diagnosed medical condition or an identified inclusive-educational need.
Students in Grades 7 to 9: No access to cellphones or personal devices during class time—the only exceptions, students with a diagnosed medical condition or an identified inclusive-educational need, and when given permission by a teacher for a specific educational task or purpose. Students can access their device during identified break periods, including between classes and the lunch hour.
Students in Grades 10 to 12: No access to cellphones or personal devices during class time—the only exceptions, students with a diagnosed medical condition or an identified inclusive-educational need, and when given permission by a teacher for a specific educational task or purpose. Students can access their device during spare periods and identified breaks, including between classes and the lunch hour.
The purpose of the policy is to ensure learning takes place in an environment with fewer distractions. When students can focus on what's taking place in the classroom and can interact directly with the teacher and other students, they're in a better position to grow and succeed.