Back to all posts
Posted on
Bison Tales - October 29, 2021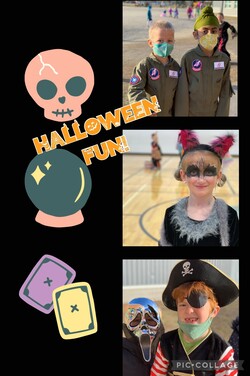 This week our students had a chance to learn all about bus safety! We are always amazed to see how quickly and efficiently our students get on and off the over twenty buses in our bus lane.
Our children were responsible as they learned about what to do during a bus emergency. We were so impressed with the students who stood behind the bus to help the rest of the riders to jump down from the back as part of the evacuation drill. Everyone took this practice seriously and we were impressed!
Speaking of safety, we have been thinking all about safety over the past few weeks. Of course, we've focused on physical safety such as practicing fire drills and bus evacuation drills. We are also focused on emotional safety at school.
Did you know that our teachers are supporting student emotional safety in class every week with mindfulness activities and opportunities to learn about how to be a leader by following the seven Habits of Happy Kids? Teachers regularly support students who are learning how to make friends by providing strategies on how to resolve conflict and by holding children accountable for their choices. 
We also have an amazing school team of supports such as our counsellor, Mrs. Bashaw, and our Mental Health Capacity builder, Ms. Kowalchuk! Here in the office, we pay close attention to student reports of unsafe behaviours at recess or bullying behaviours in class so that we can investigate and intervene quickly. In the end, our goal is to support students in learning how to be caring community members who can learn from mistakes and repair relationships when they make poor choices.
Your well-being is important to us too! If your family is in need of support, please don't hesitate to reach out to the school. As part of the Bison herd, we'll work together to help you!
Great Happens Here!
Helene Hewitt & Kyla Harding
Principal & Assistant Principal
Table of Contents
Week At a Glance
Action
Opportunity 
Tidbits from the Lunchbox
No Child Without
Bottle Drive Next Week!
Upcoming Parent Meetings
Information
Music Notes
November Break
Parents Make the Difference 
WEEK AT A GLANCE
Monday

Bottle Drive begins today!

Tuesday
Wednesday

Did you remember to bring in bottles?
Early Dismissal @ 2:16 pm

Thursday

You can still bring in bottles!
Little Caesar's Pizza Kit Pick Up today @ 3p.m.

Friday

Virtual Remembrance Day Ceremony
Last day of school before November Break
Bison Tales posted online
ACTION
Virtual Halloween Parade
Our students looked amazing today in their awesome Halloween costumes! We enjoyed seeing unicorns, ninjas, dinosaurs and even some royalty! I hope the Elsa's don't bring too much snow with them too soon! 
If you'd like a chance to see the amazing costumes on display this year, click here to watch our spooky and adorable virtual Halloween parade!
OPPORTUNITY
Tidbits from the Lunchbox
Little Caesar's Pizza Kit fundraiser was a success! Thank you to all the families that worked hard to sell the kits abd help us raise funds for our Hot Lunch program. The top sellers that have won the hot lunch credits are:
1st - Tennesy Brown 47 Kits - $100 Credit
2nd - Jaxton Karavidas 33 Kits - $50 Credit
3rd - Drea Yakimchuk 31 Kits - $25 Credit
Honorable Mentions:
Osborn Family 26 Kits
Mottershed Family 24 Kits
Dziwenko Family 24 Kits
Tattrie Family 21 Kits
Bryski Family 20 Kits
Please remember or arrange to pickup your kits on Thursday, November 4 from 3pm-6pm. We do not have anywhere to store forgotten pizza kits so any orders leftover will be donated. Please email info@aeslunchbox.com if you need to arrange having your child pickup the pizza kits for your household to take on the bus (please only do this for smaller individual orders) 
The December menu ordering will open on Monday, November 1. All orders and payments will be due November 11.
No Child Without: Free MedicAlert for students
In our ongoing effort to provide safe and caring schools for students, Ardrossan Elementary is registered in the Canadian MedicAlert Foundation's No Child Without program. The program is a national initiative that provides no-cost MedicAlert services to children—between the ages of four and 14 years—who have chronic health conditions. The goal is twofold: to help children with severe allergies, medical conditions or special needs and to assist schools with medical-emergency plans for students.
Once a child is registered, the school is provided with advice on a medical-emergency plan for that student and given a list of medications, allergies and medical conditions the student has. If your child has a serious medical condition or allergy and could benefit from MedicAlert services, contact the school office at 780-922-2066. To learn more about the No Child Without program, visit www.nochildwithout.ca.
Bottle Drive Next Week!
Hey Bisons! Save those bottles for our upcoming bottle drive next week! Bring in a bag or two of bottles and place them in the trailer parked in front of the school from November 1-5! If you take a picture of your family dropping off bottles and post it on social media, you will be entered into a prize draw for a gift card!
All proceeds from our bottle drives go to the Ardrossan Elementary Parent Support Association (AEPSA) which are then used to for our playground enhancement project or for supporting events or resources for students at the school. 
Upcoming Parent Meetings
We are so lucky to such involved parents at Ardrossan Elementary! Have you also thought about coming to a School Council or Adrossan Elementary Parent Support Association (AEPSA) meeting but you didn't know what to expect? There is no time like the present to jump in and join a vibrant group of people who work hard to make our school an amazing place!
It is not too late to join us for our next virtual meeting on November 16. We will begin with the School Council meeting @ 6:30 p.m. followed by the AEPSA meeting @ 7:30.
Here are the agendas for both meetings:
Here are the draft minutes from our last meetings:
If you would like to join our meeting on November 16, you can use this Microsoft Teams meeting link.
We look forward to seeing you in a few weeks!
Your Ardrossan Leadership Team,
Darren Wright, School Council Chair
Vania Lloyd, AEPSA President
Helene Hewitt, Principal
INFORMATION
Music Notes
As you would expect, we will not be having an in-person Christmas concert this year. Instead we have two different plans to replace this traditional event.
The first is a special week of World Drumming with a fantastic virtual artist in residence program for Grades 1-6 from November 16-19.
Students will learn about drumming from authentic instructors for the following countries/cultures/concepts:
Brazil
First Nations (Cree)
West Africa (Sangea Academy)
Japan (Taiko Drumming)
India (Dance and Vocal explorations)
Drumming for Recovery (mental health)
Drum Circles/Yoga for Kids (Mudita – The Buddhist teaching of finding empathic joy through music making.)
Second, each class will prepare a song or musical performance, and it will be posted on Brightspace for families to watch.
As for our beloved tradition of the Grade 5 & 6 musical theatre show, we are looking forward to preparing a spring musical, either virtual or in-person depending on current provincial health orders at that time.
Keep reading future Bison Tales for more on all these plans!
Musically Yours,
Mrs. Pretzlaff
November Break
Can you believe that November Break is just around the corner? We are sure that you have some great plans on how to enjoy a week of family time from November 8-12! We hope that some of those plans might include daily reading for all of students! Practicing reading at home regularly will make a HUGE difference in growing strong and capable readers in life and at school!
Here are a few other reminders that were sent out by Communications earlier this month:
As November break approaches, we have received a number of inquiries asking when students are able to return to school after travelling outside of Canada.
Unvaccinated students under 12 years of age travelling with fully vaccinated parents or guardians cannot return to school or daycare for 14 days following their return to Canada, and must follow the mandatory requirements under the Minimizing the Risk of Exposure to COVID-19 in Canada Order.
Fully vaccinated students 12 years and older who travelled out of the country can return to school without delay so long as they are asymptomatic. If unvaccinated, these students are subject to the Government of Canada's required 14-day quarantine, whether or not they are accompanied by a parents or guardian who qualifies as a fully vaccinated traveller.
Additional information on travel restrictions and public health requirements can be found at the Government of Canada's website.
Parents Make the Difference
Each month we will include some articles with some great tips and strategies for parents. Here is this month's featured article:
Positivity is key when talking to your child about grades
If your child's grades are lower than you expected, it's only natural to be disappointed—especially if you know she isn't working up to her potential.
The most important thing to remember is to keep your emotions in check. Getting angry or showing your disappointment won't help. Instead, look for ways to encourage your child to do the best she can:
Ask her to talk about her grades. Does she think they accurately reflect her work? What does she think is going on? Does she com­plete her in-class assignments? Is she turning in her homework on time? Does she understand the lessons? Does she think there is anything she could do differently?
Talk with her teacher. Is your child having any issues at school? Discuss ways you can work together to boost your child's performance. What resources are available to help?
Enforce a regular study time. During that time, the TV should be off and digital devices should be used only for studying. Set a timer for 20 minutes, then let your child take a short break before getting back to work.
Offer support. Provide help when necessary, but don't just give your child the answers. Instead, act as a coach and show your child how she can find the answers on her own. Always let your child take responsibility for completing her work.
Reprinted with permission from the October 2021 issue of Parents make the difference!®  (Elementary School Edition) newsletter. Copyright © 2021 The Parent Institute®, a division of PaperClip Media, Inc.