School News
MONTHLY UPDATE - October 2018
Posted on

October 4th, 2018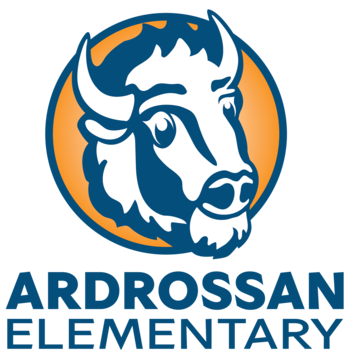 I will never forget the first time I stepped through the doors of Ardrossan Elementary school. Mrs. Whetstone had invited me to drop by the school so that I could meet her and see the school before starting as assistant principal.
I had never been to Ardrossan before and I had no idea of what to expect. When I walked through the doors I immediately felt the warmth and the friendliness of this school community. Three students said hello to me at the door and it was clear that students wanted to be there and that staff cared about those students.
I remember getting a tour and meeting some of our Hot Lunch parents, some of whom are still working here today, who were busy making lunch. I thought, "They make home made lunch almost every day? Really?" I then saw the two gyms and the crazy long hallway that connected the different schools and I thought I would need a GPS to find my way around.
But I learned the ins and outs of the old school over time. I got to meet families who have been part of this community and this school for many generations. People who were here when the very first school opened its doors in the 1950s. Whose children and grand-children and great-grand children now walk these halls and I was struck by an amazing sense of family and community.
Time touches us all and our beloved old building needed some TLC to continue to provide a safe space for our students. We knew it was time for a face lift. It was time to move to a new building - a new space to meet the needs of a new generation of Ardrossan students.
As the oldest part of the school was taken down to make room for this new building, Mrs. Whetstone wisely pulled a few bricks from the pile as a means of keeping a part of our history with us. I have one of those bricks in my office and as I feel its weight in my hands I am reminded of where we came from.
Each one of these bricks was held together with mortar making them strong and solid. And although we no longer have these bricks in our new building, the mortar is still there. We are held together by our shared values of community, compassion and a spirit of togetherness. And although we have left the physical parts of our old school behind, we have brought with us the most important part: being a family.
Thank you to all of our partners including students, parent groups, builders, architects and Elk Island Public School personnel who worked tirelessly with us to make this new building come to life.
Before I sign off and leave you to read about the upcoming month, I have a few words for Mrs. Whetstone on behalf of our school community.
Thank you for your vision and for your unwavering belief in our students. We know that you are hard at work getting healthy so that you can return to us as soon as you are able. In the meantime, we want you to know that your bison family here at Ardrossan is grateful for your leadership and your hard work in making our school a place where we can live up to our motto: success for all.
Welcome home to your new school.
Great Still Happens Here!
Action
Book your Interview Times for Parent/Student/Teacher Conferences - October 9
Save the Date: October 9 School Council Meeting @ 9:30 a.m. and Canadian Parents for French @ 10:30 a.m.
Habit 2 Assembly:  October 11 - Hosted by Grade 5
Pay School Fees Online
Picture Retake Day:  October 17 (morning only)
Bottle Drive:  Thursday, October 17-18
Parent/Student/Teacher Interviews:   October 17-18
Halloween Parade:  October 31 - 1 p.m. 
Opportunity
Tidbits from the LunchBox
No Child Without - Free MedicAlert for Students
Leadership Ledger - Habit 2 Begin With the End in Mind
Parents Make the Difference
Did you know?
Information
It Was Grand!
Read In Week:  October 2 - 6
Celebrating World Teachers' Day: October 5
Reminder:  Make Checking for Head Lice a Regular Routine
Literacy Day:  October 28
School Bus Safety Week
3rd Annual Family Fun Math Night 
Fair Notice: VTRA
Literacy at Home
ACTION
Book Your Parent/Student/Teacher Conference - Bookings Open October 9th
Login into book your interview between October 9th and October 16th. Simply go to the website, enter the school code 22fvj and select your teacher and your preferred date and time. 
Save the Date: October 9 School Council Meeting @ 9:30 a.m. and Canadian Parents for French @ 10:30 a.m.
Join us! All parents and guardians are welcome to attend. The meetings will be held in the Gathering Area.
Habit 2 Assembly - Hosted by Grade 5
We continue to highlight the Leader in Me Habits throughout the year. This month, the Grade 5 students are planning, organizing and running the Habit 2 Assembly: Begin with the End in Mind. These students share the importance of setting goals and planning ahead. This assembly is also special as we will have the unveiling of our special art work created with artist Adrian LaChance.  Join us at 9:30 a.m. on Thursday, October 11 in the gym.
Pay School Fees Online!
School fee information for the 2018-19 school year is now posted on the PowerSchool Parent Portal. All fees are due within 30 days of being posted. To access your fee information, simply log in to the PowerSchool Parent Portal and go to "Student Fees." There you can view your fees and pay them online using Visa, MasterCard or INTERAC Online—when available from your financial institution.
Don't forget to also log in to the PowerSchool Parent Portal regularly throughout the year. Fees are often added to your child's account to cover the cost of various school activities such as field trips, class projects, athletic-team fees and more.
If circumstances exist where you are unable to pay your fees, you can apply to have fees waived by submitting an Application for a Waiver of Fees. The application deadline is Dec. 15, 2018.
For more information about school fees, waivers and payment deadlines, visit www.eips.ca/schools/fees and Ardrossan School fees. Alternatively, contact Coleen Pearson, business manager at Ardrossan Elementary at 780-922-2066. 
Picture Retake Day: October 17 (morning only)
Reminder to please sync with the school calendar to stay informed about upcoming events.
Bottle Drive! Thursday, October 17 and 18
Bring your bottles to Parent/Student/Teacher Interviews. Donation bins will be set up in the parking lot of the school. Thanks to the Ardrossan Elementary Parent Support Association for spearheading this fundraiser and to Darren Wright for lending us his trailer. Proceeds from the bottle drive will go towards supporting students at Ardrossan.
Parent/Student/Teacher Interviews October 17 and 18
We are pleased to invite families to join us for parent/student/teacher conferences on October 17 and 18. In order to accommodate as many families as possible, each session is 10 minutes long. Teachers will adhere to the timelines so that families are able to attend multiple appointments without problems. Should your conference require more than the available time, a separate meeting will be established. Thank you for understanding. We look forward to seeing you!
Halloween Parade 1 p.m.
Please join us in in the Gathering Area for a parade of ghosts and goblins! Boo!
OPPORTUNITY
Tidbits from the LunchBox
The Lunchbox would like to thank you for your continued support of our Hot Lunch Program.
Kudos to our amazing parent volunteers who have been helping us deliver lunches to the Kinders, Grade 1,2 and 3 classes 4 days a week! Without your help this would not be possible.
November's Hot Lunch ordering begins October 9 and closes on October 18 (at midnight). Don't wait! Be sure to order your sports-themed treat for Jersey Day on November 23!
Crazy Bread....Mark your calendars! Our Little Caesars Pizza Kit Fundraiser is back by popular demand. Ordering begins October 1 and closes October 19.  Pick up will take place on November 7 between 4:30-6 p.m. Students will be bringing home the order forms and instructions this week.
Any questions? Please email us at support@aeslunchbox.com
Thanks,
Ady Arbuckle
No Child Without: Free MedicAlert for students
In our ongoing effort to provide safe and caring schools for our students, Ardrossan Elementary continues to be registered in the Canadian MedicAlert Foundation's No Child Without program. The program is a national initiative that provides no-cost MedicAlert services to children—between the ages four of 14—who have chronic health conditions. The goal is twofold: to help children with severe allergies, medical conditions or special needs and to assist schools with medical-emergency plans for students.
Once a child is registered, their school is provided with advice on a medical-emergency plan for that student and given a list of medications, allergies and medical conditions the student has. If your child has a serious medical condition or allergy and could benefit from MedicAlert services, contact the school office at 780-922-2066. To learn more about the No Child Without program, visit www.nochildwithout.ca.
Leadership Ledger - Habit 2: Begin With The End in Mind
This month we are focused on Habit 2. Begin With the End in Mind means to think about how you would like something to turn out before getting started.
Think of something your child has been trying to learn. Help him or her write it out what it would look like, sound like or feel like if he or she mastered that skill. You could start with: "My End in Mind is...it would feel...."
Parents Make the Difference
Take a peek at this month's articles to support healthy home and school relationships.
Are You Teaching Your Child to be a Good Citizen?
Boost Your Child's Reading & Writing Skills with Conversations
Navigating Social Challenges Leads to Increased Confidence
Reduce Your Child's Screen Time by Setting Limits
Did You Know?
If you have emergent concerns regarding the progress of your child, be they academic, behavioral, social or medical, please contact your child's teacher as soon as possible. In keeping with a safe and respectful learning environment, parents are encouraged to privately and confidentially speak directly to your child's teacher who is in the best position to provide assistance to your child.  
Please arrange a time to meet and share information so that, dependent upon the concern, a school team may be assembled early in the learning process. The concern may require a school team approach involving teacher, school support staff, counselor, administration and educational partners (mental health, speech and language, RCMP, Social Services, etc.). The supports provided, whether the school team or education partners, are confidential. Home and school, working together, are in the best position to assist each child to experience success.
INFORMATION
It Was Grand!
Thank you to all of the families who joined us for our Grand Opening on September 28. We were so proud of our Grade 3 choir who performed a beautiful song for our many guests. Congratulations to Grade 6 students Kiyauna, Ryley, Chase and Cohen who did an impressive job as Master of Ceremonies throughout the event. It was a wonderful occasion to stop and appreciate our journey to this new building and to celebrate being together as a community. We were also happy to have a visit from Mrs. Whetstone as well as many important dignitaries such our Superintendent, our Trustees and many members of local government. We are grateful for the Hot Lunch parents for donating some delicious baked goods and for providing coffee. Thank you to all for joining us!
Read In Week - October 1-5.
Read In Week 2018 returned on October 1. The theme for this year was Bringing Books to Life. Through various activities, students spent the week learning how stories live on, even when the book is finished. Some of the activities planned for Read In Week included:
Visits from local authors Karen Probert, Beth Rowe, Tololwa Mollel and our own Lea Kulmatycki
Classes participating in Global Read Aloud event
Teddy Bear Time - read to a stuffie
Family Picnic 
Getting caught reading
Read In Week is a Division wide initiative held annually to encourage a lifelong love of reading and to enhance literacy awareness among students, staff, parents and community members. We invite all our families to participate in Read In Week with us either by reading yourself, with your child or with someone in the community.
And, don't forget to share what you've learned throughout the week using the hashtag #eipsreads. We hope you discovered some amazing stories.
Celebrating World Teachers' Day: October 5
October 5 is World Teachers' Day! Launched in 1994 by the United Nations Education, Scientific and Cultural Organization (UNESCO), World Teachers' Day is celebrated annually around the world as a way to recognize teachers and the integral role they play in providing quality education to students. On October 5, Elk Island Public Schools (EIPS) encourages all students, families and community members to show their appreciation for their teachers and the positive impact they make on our lives.
EIPS extends its heartfelt thank you to all its teachers for their dedication, hard work and commitment in guiding and educating our students through their kindergarten to Grade 12 years.
REMINDER: Make head checks for lice a regular routine!
Head lice is one of the most common problems faced by school-aged children and their families. Typically, head lice are tiny, greyish-brown insects that live on the scalp and lay their eggs, or nits, in the hair close to the scalp—itching is the main complaint. Lice don't jump from head to head nor are they dangerous. Having a head lice infestation, however, can cause stress, anxiety and hardship for staff, students and parents. As such, it's essential each of our families do their part at home by undertaking weekly routine head checks and, if head lice and nits are found, physically removing them.
While head lice prevention and control is primarily the responsibility of the parent, the school does work discreetly with the teacher, students and families to prevent further transmission. To prevent the spread of head lice, we strongly encourage you to speak to your child about preventative behaviour such as avoiding head-to-head contact and not sharing combs, hats, pillows and hair accessories. It's also important to teach children not to tease other students about head lice—anyone can get head lice. If head lice are found on your child, notify the school, physically remove the lice and nits using the proper lice comb, and keep your child home until all signs of active head lice are gone.
For more information about head lice prevention and treatment, visit www.eips.ca/programs-services/healthy-schools/head-lice. Alternatively, you can contact the school at 780-922-2066.
School Bus Safety Week: October 22-26
Schools throughout Elk Island Public Schools (EIPS) are celebrating School Bus Safety Week October 22-26. The theme: School Bus…Bully Free Zone, which is all about promoting the importance of healthy relationship among students, staff and school bus operators. Throughout the week, various activities are planned including information sessions, bus-safety lesson plans and bus-evacuation drills.
As part of School Bus Safety Week, we'd like to remind our students and our families all EIPS school buses are equipped with both a bus-pass scanner and GPS technology, which allow Student Transportation to better monitor and manage its more than 170 buses and 600 bus routes. Thanks to this technology, parents and students also have access to the Versatrans My Stop app, a mobile tool to help determine the location of a bus, projected arrival times and when a child scanned onto a bus.
More information about School Bus Safety Week and EIPS Student Transportation services can be found by visiting www.eips.ca/transportation or by contacting Student Transportation (780-417-8151, st@eips.ca) directly.
Third Annual Family Fun Math Night
Thank you to all of the families who joined us on October 2 for our 3rd Annual Family Fun Math Night. Families spread out through the school to play games with dominoes, dice, and cards organized by Box Cars and One Eyed Jacks. Thank you to our Ardrossan Elementary Parent Support Association for donating two Galaxy Tab A tablets as prizes for this event. We would also like to thank the Hot Lunch parents for donating coffee and delicious mini muffins to keep our energy up as we played math games all night!
Fair Notice: Student Violence Threat Risk Assessment
EIPS and AEL are committed to creating and maintaining safe school environments. Schools cannot ignore any threats of violence. Please see the following link for further information about the Violence Threat Risk Assessment (VTRA) protocol.
Literacy At Home
It's All About Being on the Same Page
Student/Parent/Teacher Interviews are just around the corner and you will want to discuss your child's reading progress. There are many literary terms out there and sometimes it can feel like the teacher is speaking an alien language. When it comes to your child's education, we all want to be on the same page. Here is a list of some terms you may hear during the discussion with your child's teacher.
Reading Level – the approach to reading is no longer "one size fits all". Learning to read occurs along a continuum and each child reads at the point in the continuum that is the best fit to develop strong reading skills.
Guided Reading – small group reading where the teacher coaches the students on the use of reading strategies and comprehension strategies.
Text – the general term for any piece of writing.
Tracking Print or Text – the reader points to each word while reading aloud.
Reading Stamina - how long a child can stay actively engaged while reading.
Decoding – reading a word sound by sound.
Encoding – hearing a sound and using it to spell a word.
Accuracy – reading words correctly the first time.
Fluency – to be able to read with accuracy, speed, and expression.
Sight Words/High Frequency Words/Dolch Words – these are the words that cannot necessarily be sounded out and must be learnt through recognition. This group of words makes up 50 to 75% of the words in a text.
Phonological Awareness – understanding that words are made up of sounds.
Phonemic Awareness – understanding the individual sounds that make up words.
Phonics – the ability to know which letters make which sounds.
Pre-reading Skills – this term is used to refer to both phonological and phonemic awareness.
Print Awareness – understanding the basics of print such as reading left to right and differentiating between upper and lower case letters.
Self-correction – going back and correcting an error in reading.
Self-Monitor Reading – asking yourself questions as you read to check for fluency and comprehension.
Retell – a summary of the story.
Text Structure – how a piece of writing is organized.
Need a few tips and resources to help develop your child's reading and writing skills at home? Check out my eTeacher page and contact me for support.
Lea Kulmatycki, Literacy Support
Everyone is a reader, some just haven't found their favorite book yet.