School News
MONTHLY UPDATE - June 2019
Posted on

June 7th, 2019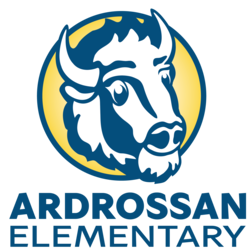 June is here!  The countdown to the last day of school is upon us.  Students still have much to accomplish in their learning.  Grade Six students are also completing the Provincial Achievement Tests (PATS) - we know they are up to the challenge.  Keep it up! Thank you, parents and care givers, for the support and encouragement you so thoughtfully provide in the home.  We also come together as a school community to volunteer and support our annual year end activities of Sports Day, Grade Six Farewell and Year End Barbecue.  These events are always memorable for students, parents and staff and a wonderful culmination of our year growing and learning together.
This year is significant for our students, families, staff and the entire Ardrossan Elementary School community as our new building became a reality.  The design provides an outstanding venue for students, now and in the future, to become the learners, leaders and citizens we know they are.  The consultations, feedback and learning research incorporated in this design will stand the test of time and is a tribute to the generations of families that attended its predecessors.  Students, parents and staff contributed to this realized vision. Our parent organizations are composed of tremendously dedicated and caring individuals who come together to care for the children in this building.  We know you join with us in extending appreciation for their compassionate efforts in putting students first in all that they do.
I would be remiss if I did not take the opportunity to acknowledge once again, Mrs. Helene Hewitt and Mrs. Kyla Harding. They demonstrated exemplary leadership throughout the transition phase to our new building that required weekends, evenings and summer work to make school opening a welcoming experience for students and their families.  The support and enthusiasm of our staff in coming together to make this happen cannot be understated. 
As many of you already know, Ardrossan is special because we have amazing students, wonderful parents and dedicated staff who enjoy coming to school each day.  Our intention has always been to surround your children, our students, with the most capable and caring staff who will bring out the best learning in each child.  Children are being prepared for a future many of us will not live to experience.  Consequently, administration is about talent management and hiring for greatness. It is also about putting the right person, in the right place, at the right time to make the best happen.  It is about encouraging every staff member to stretch and grow.  It is a professional goal to strive for daily as children are worth it.  When children do not succeed we must find a way to reach and teach creatively while recognizing that children learn differently and at different rates.  Learning is not a race but rather a journey and we must respect and embrace the potential of each child. Together, students, parents and staff continue to make this school awesome!    
Much of my career, as an English teacher, teacher-librarian and administrator has been at Ardrossan Junior-Senior High and Ardrossan Elementary.  I have taught students, who are now parents and may soon be grandparents.  Many have returned to the Ardrossan Elementary community - it makes me smile and  brings me full circle.   It is with mixed emotions I share with you my intention to retire.  This decision is not entered into lightly as I will genuinely miss the smiles and laughter of students, the friendships with parents, the excitement of staff finding a new way to teach a concept and the daily hum of school events.  Thank you for the thoughtfulness you have graced me with before, during and after cancer treatment.  I will always hold you and the memories we have created fondly in  my heart.  While retirement closes one door, a number of other doors open of which I am excited to explore. With anticipation, I pass the torch that blazes…
"Success for All".
This is the foundation of our collective gifts and talents which ensures success for each student as
"Great Happens Here". 
Action
Family BBQ sponsored by Canadian Parents for French (CPF) - Thursday, June 27th - Lunch Break
Lost and Found Items
Grade 6 Provincial Achievement Tests
EIPS Student Transportation Services 2019-2020
Student Report Cards - Posted Thursday, June 27th
Opportunity
Grade 6 Celebration - Thursday, June 27th - 9:30 a.m.  Gym
Hot dog! Hamburger! Ardrossan Elementary Parent Support Association (AEPSA) BBQ Fundraiser - Sunday, June 23rd, Sobeys Lakeland Ridge 
Back to School Solutions - Back to School Supplies 
Little Elk Island Adventure: Registration
Information
2019 - 2020 Class Configurations & Staffing Update
Summer Hours at Elk Island Public Schools
Tools for Schools
Tidbits from the LunchBox
Literacy at Home - How Can We Prevent the Summer Slide?
Parents Make the Difference
Junior High Journey
Strathcona County Summer Camps
Our Little Friends Playschool
ACTION
CPF (Canadian Parents for French) Year End Family BBQ
The much anticipated final school event of the year is coming quickly. Invite family and friends to attend the CPF BBQ! The menu for ordering is now open:  Fund Raiser Orders
Once you have logged in to click on the STUDENTS button at the bottom of the page to place your order.
Ordering closes at Midnight June 14 - Don't be late!
Lost and Found Items
All lost and found items remaining after June 27th are bagged and taken for donation. Students have been reminded throughout the months of May and June. This includes any shoes or school supplies left behind after the last day of school. Please feel free to drop by the school to go through the bin near the Music Room to reclaim any lost items!  Thank you.
Grade 6 PAT (Provincial Achievement Test) Schedule 
The following is a schedule of dates for the tests that will be completed in June. These dates can also be found on school calendars.
June 14: Gr. 6 FLA Part B
June 17: Gr. 6 ELA Part B
June 18: Gr. 6 Math (Part A & B)
June 19: Gr. 6 Social Studies
June 20: Gr. 6 Science(s)
Did you know that students who are well rested and eat breakfast in the morning, perform better in testing situations?  To ensure maximum performance we suggest you encourage your child to:
Get plenty of rest the night before:
Have a nutritious breakfast in the morning: and
Bring a snack for recess.
EIPS Student Transportation 2019-20
Planning to use Student Transportation in the 2019-20 school year? If so, please make sure your child is registered so Elk Island Public Schools (EIPS) can plan routes and send your child a bus pass before the first day of school.
All students who indicated needing transportation services through the returning student registration process are now registered. Those families have also received tentative route schedules and invoices—all fees are due by Sunday, June 30, 2019.
For those students who didn't indicate needing transportation service through the returning student registration process and want to now register, simply contact EIPS Student Transportation at 780-417-8151 or email st@eips.ca.
For more information about EIPS Student Transportation, please visit www.eips.ca/transportation.
NOTE: Fees can be paid online using the l or in-person at the Student Transportation Office—683 Wye Rd., Sherwood Park. The office will remain open during the summer months operating during the same hours as the Central Administration office.
OPPORTUNITY
Grade 6 Celebration
Please join us on June 27th from 9:30- 10:30 a.m. in the Gym to recognize our Grade Six leaders as they take the important step to Junior High School.  We are so proud of you! Moving on up!
Buy a hot dog or hamburger - Ardrossan Elementary Parent Support Association (AEPSA) 
The AEPSA is selling BBQ hot dogs and hamburgers at the Sobeys - Lakeland Ridge Shopping Centre, Baseline Road, on Sunday, June 23rd.  Please stop buy and support our awesome parent volunteers.  Profits go towards the playground.
Back to School Solutions - Ordering Supplies for September
Back to School Solutions is, once again, offering options to purchase your child's school supplies for the 2019-2020 school year. Click on the link for information.  Order Code 013AESS
Little Elk Island Adventure: Registration
Elk Island Public Schools is once again running Little Elk Island Adventure, a fun and informative program for first-time school bus riders.
Annually, Student Transportation offers the Little Elk Island Adventure to new riders and their parents. The program's aim is to help ease any anxieties a family may have about riding the bus before even starting school. Through a series of activities, riders learn about: school bus safety, danger zones, tips on boarding and how to sit properly on the bus. After that, both the children and parents hop on the bus to practice what they've learned and then venture out on a short ride.
The Little Elk Island Adventure is for first-time school bus riders entering the 2019-20 school year. Sessions and times are available at these locations:
Location                                              Date                                        Time
A.L. Horton Elementary                       August 20                                6 p.m.
EIPS Central Services                          August 20                                6 p.m.
EIPS Central Services                          August 21                                6 p.m.
EIPS Central Services                          August 22                                2 p.m.
EIPS Central Services                          August 22                                6 p.m.
EIPS Central Services                          August 26                                9 a.m.
EIPS Central Services                          August 26                                6 p.m.
EIPS Central Services                          August 28                                6 p.m.
SouthPointe School                             August 27                                2:30 p.m.
SouthPointe School                             August 27                                6 p.m.
A.L. Horton Elementary is located at 5037 48 Ave., Vegreville
EIPS Central Services is located at 683 Wye Rd., Sherwood Park
SouthPointe School is located at 11 SouthPointe Blvd., Fort Saskatchewan 
Register Now.  Space is limited and pre-registration is required.
More information regarding busing for kindergarten students is available at: www.eips.ca/transportation/kindergarten-busing-faq.
Tidbits from the LunchBox
We would like to thank everyone for their ongoing support of the Hot Lunch Program. This year was so well supported, ordering daily meals and supporting our Pizza Day and Pizza Kit fundraisers we were able to help others. Our last Pizza Kit raised us $3 000.00! Because of you, The Hot Lunch Program was able to contribute to the playground replacement fund, sponsorship of many of our in-school clubs and help with refreshments at our after school meetings and celebrations. 
Our volunteers have been such a great reason we have been so successful. We could not run our Hot Lunch program without volunteer Board members and without our efficient volunteer lunch delivery persons. Thank you to all.
Our 3 "Lunch Ladies"  were truly amazing getting those meals out in time day after day and accommodating our last minute requests. Allison, Denise & Shawna have loved being able to see the kids and meet you volunteers this past year, they look forward to seeing you again in September.
Watch next year for new, healthy and improved menu items, more Friday pizza days, and school club treat day fundraisers.
Important dates:
June 14 - CPF BBQ menu closes at Midnight June 14 - Don't be late
June 27 - Year End CPF BBQ
The Lunch Box Team
INFORMATION
Staffing Update and Class Configurations
Elk Island Public Schools will continue to post a variety of teaching and educational assistant positions for the 2019-20 school year.  Ardrossan Elementary may experience some staff changes (i.e., secondments, maternity leaves and so on) as opportunities and new teaching and employment experiences become available in other schools. We anticipate staffing changes will occur up to and including the summer months. 
At this time, our tentative staffing is as follows:
French Immersion Classes
ECS Mme Bouchard (28)
Grade 1 Mlle Rovansky (29)
Grade 2 M Tomaszewicz (26)
Grade 3 Mme Fafard (17)
Grade 3 Mme Proulx-Makovichuk (16)
Grade 4 Mme Krys (19)
Grade 5 M Castle (27)
Grade 6 M Wandji (23)
English Classes
PALS - Mrs. Robinson
ECS - TBA until Mrs. Belcourt returns (16 & 23)
Grade 1 Mrs. Samaratunga (23)
Grade 1 TBA until Mrs. Gilliland returns (24)
Grade 2 Mrs. Hill (21)
Grade 2 Mrs. Kulmatycki (21)
Grade 3 Mr. Frederickson (25)
Grade 3 Mrs. Ruptash (24)
Grade 4 Mrs. Klippenstein (25)
Grade 4 Mrs. Grauman (26)
Grade 5 Mrs. McBride (27)
Grade 5 Mrs. Massel (27)
Grade 6 Mr. Campbell (29)
Grade 6 Mr. Halbert (28)
Counselor - TBA until Mrs. Mitchell returns
Music - Mrs. Harding & Mrs. Pretzlaff
We know you join with us in extending best wishes to the staff who are leaving us at the end of June:
Mme Olsen has accepted a teaching position with Black Gold Regional School Division;
Ms. Podoborozny has accepted a teaching position with Elk Island Catholic Schools;
Mrs. Eremenko has accepted a teaching position with Edmonton Public Schools;
Mrs. Talaga has accepted a position as Early Learning Consultant for Elk Island Public Schools effective 2019-2020; 
Ms. Budney, Ms. Wilson, Ms. Musterman and Mrs.Kent have taught students under temporary contracts this year and we hope teaching positions will become available in 2019-2020; and 
Mrs. Harder, Educational Assistant, has been declared surplus to Ardrossan at this time. 
We have been fortunate to have these staff members share their gifts and talents with our students and we sincerely hope they will find future employment working in schools with children. Each staff member that leaves Ardrossan, takes a bit of "Bison Pride" with them! 
As the staffing process continually changes, we will keep you informed.  As families are undoubtedly aware, from media reports, the 2019-2020 financial status of school boards has yet to be confirmed.  Thank you for your understanding.
Student Report Cards
Student report cards can be accessed through the Parent Portal in Powerschool on Thursday, June 27th. Should you wish a hard copy, please contact your child's teacher. Parents and students will be informed of class placements in the June 27 report cards.
Summer Hours at Elk Island Public Schools
Throughout the summer break, Ardrossan Elementary is closed and will reopen on August 26 at 8:30 a.m. If you have any school-related questions or concerns while the school is closed, contact EIPS Central Services—the office is open all summer to complete year-end activities and prepare for the 2019-20 school year.
EIPS Central Office Summer Hours
Open                     Monday to Friday             8:30 a.m. to 4:30 p.m.
Phone                    780-464-3477
Address                 683 Wye Rd., Sherwood Park

Statutory Holidays
Closed                  Monday, July 1                Canada Day
Closed                  Monday, August 5            Heritage Day
Closed                  Monday, September 2      Labour Day 
NOTE: Student Transportation will also remain open during the summer months and operate during the same hours as EIPS Central ServicesOffice.
Tools for Schools
Ardrossan Elementary has once again partnered with the United Way for the 2019-20 Tools for Schools campaign. Annually, Tools for Schools provides backpacks and school supplies to students in kindergarten through Grade 12 whose families have limited resources. If you are a parent or know a parent who needs access to the program, contact our school directly. We will discretely provide the backpack to your child at the beginning of the 2019-20 school year.
Alternatively, if you'd like to donate to the program, you can pick up few extra supplies when you're out shopping for back to school. Drop-off boxes are located at various businesses in the community during the summer months—including Staples and EIPS Central Services office. All supplies donated within our community are invested back into our region.
For more information about Tools for Schools, please contact Sandy Shackleton, Secretary or call the EIPS Central Services at 780-464-3477.
Literacy at Home - What is Summer Slide?
Summer Slide, or Summer learning loss, is a problem that affects all learners. Research shows that students who are not actively engaged in reading during the summer lose reading skills. There can be more than a one month loss of reading skills and knowledge! As a result, students who are not reading during the summer months begin school in September at a lower reading level than the previous June.
As parents, we want our children to enjoy their summer and hesitate to ask them to engage in school-like activities. Did you know that 76% of kids say they like to read over the summer, yet only half of these kids will read without being prompted by their parents?
How Can We Prevent Summer Slide?
Encourage your child to read daily for pleasure. For younger children, not only listen to them read, but read to them as well. Reading to your child not only exposes your child to the foundations of reading, it reinforces that we read for pleasure. Talk about the books your child is reading. For French Immersion students, it's fine to talk about the book in English. It's a fun way to engage with your child and encourage reading. Add a fun twist to reading this summer by using The Measured Mom's, Read a 100 Books Challenge which requires you to read each book in a different place. That's 100 different places! (Scroll down the webpage to download the list.)
Participation in the Strathcona Library's annual Summer Reading program is a great way to start the summer. While you are there, encourage your child to explore the library and expand interests. The blog, Growing Book by Book, has a fun Library Book Challenge that you can do during your visits to the library. There are nine weekly challenges to discover new books to read over the summer.
Continue to use online reading programs your child has used at school during the summer months. All students have a Raz-kids account, an online resource with leveled stories and comprehension questions. Many teachers use Epic Books, an online digital library with over 35,000 books in both English and French. Your child can continue to access this resource using a computer. However, access with an iPad app has a monthly fee. (This is how they are able to provide the resource free to schools.) You can join free for 30 days to try it out. French Immersion students can continue to login and use their Je lis, je lis littératie! account and access these online French leveled books.
For those students who love science, check out Edventures With Kid's Summer Science Experiments. A list of books accompanies each of the 27 science experiments so your child can learn more. National Geographic Kids online has amazing articles, videos, and games about animals for children in Grade 3 and up. Younger students would need to explore this site with an older sibling or parent. Camp Wonderopolis is a free online summer camp packed with fun, interactive STEM (science, technology, engineering, math) and literacy-building topics that include Maker experiments. With five different camps to explore, your child will never be bored!
It's always enjoyable to listen to someone read a book. Swap out some of your child's video game time with these online story sites. Well-known actors and actresses read aloud well-loved stories on Story Online. This wonderful site will keep your child engaged for hours. Tumblebooks has a large digital library of stories that are read aloud. Each book page contains illustrations and text, with an option to highlight words as they are read so your child can follow along. Please email your child's teacher for our school login. At Storynory, this collection of original, fairy tale, and classic children's audio books also include the text so children can read along.  Also check out Kiz Club for online stories aimed at Grade 1 and Grade 2 students. There are three levels of books and children can follow along as the story is read aloud.
For students who would like to work on further developing their reading skills, Free Reading Program provides a sequential learning program that includes comprehension texts, sight words, and vocabulary aimed at ECS to Grade 6. For young students, Reading Bear is a great online program that focuses on building reading skills using phonics and word families. At Starfall, children ECS to Grade 3 learn to read using stories and games.
Have a wonderful summer!
Lea Kulmatycki, Literacy Support
What an astonishing thing a book is. It's a flat object made from a tree with flexible parts on which are imprinted lots of funny dark squiggles. But one glance at it and you're inside the mind of another person.  - Carl Sagan
School Supply Lists
School Supply lists are now posted on the website. Check out your child's next grade supply list link.
French Immersion News
It has been a very successful year. As summer approaches, continuing with French language skills is important. Your child will receive a French book bag with books at his or her level at the end of the month. Please encourage them to read these books in July and August and return them in September.
French Activities to work on during the summer
Camp Tournesol has a booklet you can download with French activities.
 https://www.camptournesol.ca/free-french-activities-workbook-for-the-summer/
Here are some apps that your child may be interested in to help your child in French:
Duolingo
Learn French with Babbel
Gus on the Go
Merci
The French Immersion Team would like to thank Canadian Parents for French for supporting Ardrossan Elementary throughout the year. We are so grateful for everything you do – MERCI! You can check out their website - https://ab.cpf.ca/
Parents Make the Difference
Please check out these timely articles:
Junior High Journey
Transitioning from elementary to junior high school is exciting and can be stressful. Learn basic information on how to support your teen transitioning to junior high school at a free workshop for parents and caregivers. Sessions will take place June 11 and August 27. Learn more (scroll down to Junior High Journey). 
Strathcona County Summer Camps
What to do all summer long with the kids? Check out the terrific opportunities in the summer camp. booklet.
Ardrossan French Playschool
Registrations are now accepted for September 2019. Please click on the link for more information:
Great Happens Here!