School News
MONTHLY UPDATE: January 2019
Posted on

January 11th, 2019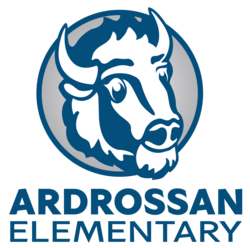 Happy New Year and Best Wishes for Health and Happiness in 2019!
It is with excitement and delight that I return to Ardrossan Elementary to again share our collective focus on student learning and to celebrate the successes of each of our students.  It is simply wonderful and exhilarating to greet students on the bus, in the hallways and on the playground.
Ardrossan Elementary School is an innovative and inviting learning space for all to experience success. The  school is the culmination of a lengthy project envisioned by all members of our community.  I know you join with me in extending sincere appreciation to Mrs. Helene Hewitt and Mrs. Kyla Harding for their tireless, thoughtful and dedicated leadership in transitioning to the new site - their professional commitment was shared with our enthusiastic staff.  We have such capable leadership demonstrated daily throughout our school - students, staff and parents.
I must take a moment to extend appreciation for the countless gestures of thoughtfulness by students, family and staff that have truly touched my heart and reinforced what a caring community we together share.  I cherish the letters, notes and gifts as they bolstered my spirits towards recovery.  In the midst of treatment, the words of Leo Buscaglia, offer some insight:  "Too often we underestimate the power of a touch, a smile, a kind word, a listening ear, an honest compliment or the smallest act of caring, all of which has the potential to turn a life around".  
Mrs. Whetstone
Great Happens Here!
Table of Contents
Action
Kindergarten Registration Starts February 1st
Grade 4 Parent Accountability Pillar Survey - Please check your mail
Returning Student Registration
Colour Week!
Social Media Smarts: How to Help Kids in the Digital Age - January 29th - 6:30-7:30 p.m.
Opportunity
School Council (9:30 a.m.) & Canadian Parents for French Meeting (10:30 a.m.) - January 15th
Grade 3 - Leader in Me Assembly - January 18, 9:30 a.m.
Tidbits from the Lunchbox
Literacy At Home
Ardrossan Swag!
Information
EIPS Division Calendar:  2019-2020
Social Media
Inclement Weather
Tidbits from the LunchBox
Healthy Living - Nutrition Bites
Action
Kindergarten Registration Starts Soon!
Is your child turning five on or before December 31, 2019? If so, it's almost time to register for kindergarten.
Kindergarten registration opens for the 2019-20 school year on February 1, 2019. Details are available at www.eips.ca/registration/kindergarten.
To help families prepare, Elk Island Public Schools has put together an online toolkit—available at www.eips.ca/kindergarten—to make the transition as smooth as possible. The kit includes information on registration, important dates, programming options, what to expect, eligibility, how to find your designated school, transportation and more.
Ardrossan Elementary offers full-day programs in both English and French (Monday/Wednesday and some Fridays OR Tuesday/Thursday and some Fridays) for the 2019-20 school year. The French Immersion program will be offered Monday/Wednesday and some Fridays.
Additional information regarding kindergarten can be found on our school website at Ardrossan Elementary Kindergarten.
Attention Grade 4 Parents!
As an annual check-up on the education system, the Accountability Pillar provides an opportunity for Alberta Education and school authorities to ensure that we are equipping students for success.
The Accountability Pillar uses a set of 16 indicators. Data on these indicators consists of surveys of students, parents and teachers on various aspects of education quality, student outcomes such as dropout and high school completion rates, and provincial assessments of student learning.
From January to the end of February, Alberta Education will be conducting the annual Accountability Pillar Survey.  
In January, parents of students in grades 4, 7 and 10 will receive a survey from Alberta Education.
In February, students in grades 4, 7 and 10 and all teachers will be completing their surveys online at school.
All surveys are anonymous and ask questions about experiences with your school.  In addition to English and French, the parent survey is available in Chinese, Punjabi, Arabic, Blackfoot, Dene, Cree, Korean, Spanish, Tagalog and Urdu.
Your participation in the survey helps provide important information on the quality of education your child is receiving, so we encourage you to return your survey promptly.
Survey results will be available to school authorities in May, and will be reported publicly as part of their 3-Year Education Plans and Annual Education Results Reports.
The survey arrives this month in a printed format. Grade 4 parents are also able to complete online. Information is provided in the package mailed directly from Alberta Education.
Returning Student Registration for 2019-20
Elk Island Public Schools (EIPS) will once again conduct an online returning student registration process to confirm student registrations for the 2019-20 school year. Families of all returning students will need to complete this process to confirm the school their children will attend for the 2019-20 school year, and to request to attend a non-designated school, if applicable. Returning student registration will take place at the same time as all registrations for the 2019-20 school year: Feb. 1-28, 2019. 
Access to the Returning Student Registration Form is provided through the PowerSchool Parent Portal. If you don't have a PowerSchool Parent Portal account, you will need to set one up before Feb. 1, 2019. 

To create a PowerSchool Parent Portal account:
Click the button labelled, "Create Account."
Enter the parent or guardian information. Each account must have a unique email address and username—only one parent account is required regardless of the number of children you have attending EIPS schools.
Create a username and password of your choice—you'll need both the username and password to log in to your PowerSchool Parent Portal.
You must have an Access ID and Access Password for each student that is added to your account. Contact your child's school to obtain this information.
Press "Enter."
If you have any problems setting up the PowerSchool Parent Portal account, contact your child's school for further assistance.
Colour Week
Don't forget to dress with colour during our annual Colour Week. There is nothing like bright colour to enliven the long January days.
Monday - blue
Tuesday - purple
Wednesday - green
Thursday - red
Friday - orange
Social Media Smarts
Join us on Tuesday, January 29 from 6:30 to 7:30 p.m. to learn how to help kids grow up in the Digital Age. The Ardrossan Parent groups are sponsoring a terrific door prize - Circle with Disney! We are meeting in the Gathering Area.
Opportunity
Join us on Friday, January 18th at 9:30 to learn about putting First Things First. The Grade 3 students are emceeing the event complete with music and video.
Put First Things First - Habit 3 is all about deciding what is most important and making sure to do that first. By planning ahead, we are organized and less stressed.  Students make the commitment to:           
Make a schedule;
Spend time on important things;
Study first, then play;
Be disciplined and organized; and
Be aware of the time.
For further information, please visit the Parent Handbook for the Leader in Me.
Parents Make the Difference
Check out these timely articles:
Literacy at Home
Shared Reading With Your Child
Shared reading (taking turns reading) with children helps build important reading skills, even if they are able to read to themselves. The key to shared reading is to choose stories that your child is interested in reading and are above your child's reading level. It's a fun way to enrich background knowledge, increase comprehension skills, develop language skills, and, most importantly, make reading a pleasurable experience.
How to Make Shared Reading Positive, Productive, and Empowering
The objective of shared reading is to enjoy reading the book together, so keep correcting to a minimal. You can let some of those small errors slide.
Let your child choose the book or the story. Offer a variety of choices such as short stories, books, magazines, and poetry.
Find a comfortable place to sit that allows the two of you to sit beside each other knee to knee and elbow to elbow. If you are reading with two of your children, have them sit on either side of you.
Take turns reading. How you share the reading will depend on the complexity of the book. Your child could read as little as the first sentence on a page to as much as two pages.
When it's your turn to read, model fluency – read at a comfortable pace, use phrasing (pausing at commas, stopping at periods, change in expression for exclamation marks and question marks, etc.), and read with expression.
For beginning readers, track text (place your finger under each word as you read).
Occasionally think out loud as you are reading. Good readers ask questions as they read. This is a simple way to model this reading comprehension strategy to your child.
Occasionally pause during reading so you and your child can discuss opinions and reactions to what you are reading as well as compare predictions.
Most importantly, have fun!
Setting time aside for shared reading helps your child become a confident and competent reader. It communicates the message that reading is worthwhile. It is also a time for you and your child to explore and imagine together!
Lea Kulmatycki, Literacy Support
"The book is a login to an exciting world, no password required." – ebook.com
Buy Some Ardrossan Swag!
Did you know that Ardrossan has a clothing shop? 
Order some nice clothing with our school logo through our Ardrossan Elementary Entripy shop.
If you want to order items from an Entripy shop that are not on our AEL shop, you can enter our member code and it will go towards our school's 10% rebate.
Member code: AEB044C7
Information
EIPS 2019-20 Division Calendar: Now available!
The official 2019-20 EIPS calendar is now available online. The calendar includes important dates during the 2019-20 school such as school-closure days; breaks; the first and last day of classes; professional learning days; and early dismissal days.
Highlights from the 2019-20 EIPS calendar include:
September 3                                 First day of classes (after long weekend)
November 11-15                           November break
December 23 to January 3             Christmas break
January 31                                   Second semester begins
February 6-7                                Teachers' Convention
March 30 to April 3                        Spring break
June 26                                        Last day of classes
June 29                                        Schools close for the Summer break
To view the 2019-20 calendar, visit www.eips.ca. Also available online: the current school calendar and the 2020-21 calendar.
Did you know you can sync the Division calendar to your own personal calendar? You can. Simply, visit www.eips.ca/calendar and click on "subscribe to calendar." It's that easy.
Another way to stay connected: Follow EIPS on Twitter and Facebook
With 42 schools and close to 17,150 students there's a wealth of events, activities and stories taking place across the Division every day. You can find these stories and more by following Elk Island Public Schools on both Facebook and Twitter. Each use the combination of news articles, videos and photograph that showcases the latest news, updates, events and alerts taking place across the Division.
Plus, if you're a member of an EIPS school community and want to share in the storytelling, simply tag the Division using the hashtag #EIPS.
Stay in the loop, follow EIPS on Facebook and Twitter
NOTE: The Division Facebook and Twitter accounts are managed by EIPS Communications Services. The account is updated and monitored intermittently during regular office hours from 8:30 a.m. to 4:30 p.m., Monday to Friday. The Division welcomes feedback and ideas from followers but does ask everyone interacting on the EIPS Facebook page to be respectful. Personal attacks and offensive language will not be allowed and may be deleted.
Inclement Weather
With the winter season well underway, we want to remind parents to dress children appropriately for the weather when getting ready for school or the bus. The weather often changes unexpectedly throughout the day, so please select suitable outerwear and ensure your child is prepared for changing conditions.
If inclement weather conditions occur, Elk Island Public Schools (EIPS) will advise parents of any bus cancellations using various communications tools including: automated-telephone messages, alerts posted on www.eips.ca and school websites, Twitter, Facebook, local radio stations, and on Versatrans My Stop.
Decisions regarding bus cancellations are guided by EIPS administrative procedures that states: "school bus service may be suspended when…Environment Canada reports a temperature of -40 C." Other reasons for suspending or delaying school bus services include adverse weather and poor road condition.
When school bus services are suspended, schools will remain open to students. EIPS believes parents have the right and responsibility to make choices for their children based on their beliefs and perceptions of safety during times of inclement weather.
For more information, contact EIPS Student Transportation at 780-417-8151.
TidBits from the LunchBox
Happy New Year and Welcome back AES parents and students. 
The LunchBox is looking forward to helping you feed your kids with some new and exciting options the next few months: Shepherds Pie, Beef on a Bun and Pineapple Sweet & Sour Chicken Balls on Rice.
February's Hot Lunch order is open Jan. 14th thru Jan. 24th. No late orders will be accepted. February's treat day is a Valentine's Day Brownie!
Important HotLunch Dates to remember:
January 14th - February menu opens
January 24th - February ordering closes at midnight
January 25th - Orange Jello Treat Day
February 14th - Valentines Brownie Treat Day
Thank you for your ongoing support of the Hot Lunch program!
The LunchBox Team
Nutrition Bites
What are the best snacks for active children? Check out Fueling Active Children from Alberta Health Services. Hungry children after school? Healthy After School Snacking has some great ideas.