School News
MONTHLY UPDATE - December 2018
Posted on

December 7th, 2018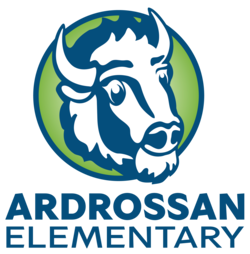 You only have to walk through our front doors to get into the holiday spirit! Christmas trees, ornaments and other seasonal decor have popped up all over the school. The holiday spirit has not only taken over the physical space of our building but also the hearts of our community.
December brings us opportunities to practice citizenship and empathy as a school community. We are so proud of our students who have brought in donations for the Strathcona Christmas Bureau during our Giving Tree initiative. Come and take a peek at all of the clothing, food, and personal items that will go to local families in need. Our Ardrossan community is a caring community!
This month we have also participated in a new tradition - the Leader on the Ledge. Have you heard of Elf on the Shelf? At our school we have a Leader on the Ledge! A little bearded elf has been getting into mischief around the school this month! If a student finds him, they bring him to the office and then enter their names for a prize at the end the month. Next time you are in the building, see if you can find him yourself!
While this month is an exciting one, we also understand that it can be challenging for some families. If your family is requiring a little extra support, please contact us at the office to see how we can help out. 
Finally, we are pleased to share that our fearless leader, Mrs. Whetstone, will be returning to us after the holidays. She is excited to come home to Ardrossan in January and she is looking forward to reconnecting with our students and families as our Principal. 
On behalf of our staff, we wish you and your family a warm and peaceful holiday season.
Great Happens Here!
Table of Contents
Action
Christmas Concert Information
Kindergarten Registration Starts Soon
Report Cards are Posted 
Student Pick Up at the End of the Day
Opportunity
School Council and Canadian Parents for French Meeting - January 15, 2018 (Save the Date!)
Tidbits from the Lunchbox
Literacy At Home
Information
Ardrossan Gets Straight A's!
Your Voice Matters - How Can Parents Get Involved in Decisions at School?
Staying Safe at School 
Merry Christmas and Happy New Year from the Board of Trustees
Returning Student Registration
Winter Break - Hours of Operation
Healthy Tips and Treats for the Holiday Season
Lost and Found
Parents Make the Difference!
ACTION
Christmas Concert Information
Did you receive your tickets yet? Check you child's backpack for an information letter, field trip permission form and 2 tickets per child that were sent home on December 4, 2018. You can read a copy of the letter here for details on dates, times and costumes. You can also purchase additional tickets for $5 each at our office through Mrs. Shackleton or Mrs. Pearson. We accept cash or cheque and we will continue selling until we are sold out. Extra tickets are first come, first served.
If you are interested in accessing our babysitting services for siblings of performers, please let your classroom teacher know so that we have enough babysitters available. We are working with students from Bev Facey in order to offer live streaming of the event. We will post information on how to access the live stream on the home page of our website when we have more details.
We hope to see you there for a wonderful show!
Kindergarten Registration Starts Soon!
Is your child turning five on or before Dec. 31, 2019? If so, it's almost time to register for kindergarten.
Kindergarten registration opens for the 2019-20 school year on Feb. 1, 2019.
To help families prepare, Elk Island Public Schools has put together an online toolkit—available at www.eips.ca/kindergarten—to make the transition as smooth as possible. The kit includes information on registration, important dates, programming options, what to expect, eligibility, how to find your designated school, transportation and more.
Additional information regarding kindergarten can be found on our school website at www.ardrossanelementary.ca. 
Report Cards are Posted
Did you know that your child's report card was posted online on November 30, 2018? If you have not yet had a chance to take a peek, it is not too late! Go to the Parent Portal to view your child's report card. If you cannot remember how to access Parent Portal you can watch this video. Contact Sandy Shackleton at 780.922.2066 if you need help.
Student Pick Up at the End of the Day - Please call by 2:45 p.m.
We know that life is busy and full of unexpected situations. Sometimes families have a last minute change of plans when it comes to students taking the bus or being picked up. In order to make sure that we can get the message to students before the end of the day, we request that you call us by 2:45 p.m. at the latest if you want to change your child's end of the day pick up plans.
Mrs. Shackleton and Mrs. Pearson will assist you in passing along a message if you call by 2:45 p.m. After that time, we will be unable to guarantee that your child will get the message as classes may already be in the hallways preparing for dismissal. Office staff are unable to leave the office to track down students as we have a high volume of people needing assistance at the end of the day. Of course, in the case of an emergency, we will definitely ensure messages are received. We thank you for your understanding and support!
OPPORTUNITY
School Council and Canadian Parents for French Meeting - January 15, 2018
Do you want more information about what is happening at school? Do you want to meet other parents and get involved in school activities? Are you the parent of a French Immersion student and you'd like to meet some other French Immersion parents? Come out to one of our meetings! You can read copies of the minutes from previous meeting here. If you'd like to add any items to the School Council or CPF agendas, please contact Helene Hewitt. 
Tidbits from the LunchBox
To thank you for the ongoing support of our Hot Lunch Program, we are offering a Free Lunch on January 7! You must order through the lunchbox website! www.aeslunchbox.com
January Hot Lunch Ordering has begun! Treat day is on January 23 - orange Jello for Orange Day. The deadline for January orders is on December 13 at midnight (don't forget)! Pizza Day is on December 14, and it's also Pajama day.
New this year - Give the Gift of Hot Lunch - see the website for details!
Any questions please contacts us info@aeslunchbox.com
Merry Christmas and Happy New Year!
The LunchBox Team
Literacy At Home
Include the gift of reading this Christmas with gifts that encourage reading and writing.
Magazine Subscription – a gift that lasts all year long. Cricket Media publishes 11 different award winning magazines that are bound to delight your reader. National Geographic is always a winning choice. Check out the publishers' websites.
Book/Pocket Pillow – if you sew, check out the Internet for the directions for this neat pillow that includes a pocket for your child's book and a handle to carry it to any cozy reading place in your home.
A Gift Card to Chapters – let your child loose at Chapters after Christmas to choose the perfect read!
Word Search Book – kids love solving these puzzles and as a bonus, they're working on spelling without realizing it.
Word of the Day Calendar – a fun way to increase vocabulary.
Bedroom Lamp – choose a special lamp that will delight your child during bedtime reading.
Bookends – let your child display best loved books between fun or funky bookends.
Personalized Library Stamp – check out Etsy for a wide range of library stamps for your child's personal books.
Boxed Book Set – a set of your child's favourite books will always be hit Christmas Day.
Make It Kits – kits to create balloon animals to unique paper airplanes requires children to learn to read directions.
Weird But True Canada – read about 300 interesting facts about Canada.
EPIC Books Ebook Subscription – with a choice of 25,000 books, EPIC Books is a great digital library app to add to your child's iPad.
Q&A a Day for Kids: A Three Year Journal – this unique journal asks kids a question and provides three sections for answers. What a fun way for you and your child to see how their answers change as they grow! It's available at Chapters and Amazon.
Just Between Us: Mother & Daughter: A No-Stress, No-Rules Journal by Meredith Jacobs – this shared journal between mother and daughter is a beautiful gift that your daughter will cherish forever. There is also a version for boys, Between Mom and Me: Mother-Son Journal by Katie Clemons. Both these books are available at Chapters and Amazon.
The Very Short Story Starter – this journal includes writing prompts and hints for the aspiring writer. Available at Chapters.
Story Stones – encourage your young writer. You can purchase Story Stones on Etsy or DIY with a printable version easily found on the Internet. Add a writing journal and you have an awesome gift. Rory's Story Cubes are dice version of Story Stones.
Picture Books, A Gift for the Whole Family – find a new favourite that just may become your family's beloved book.
Board Games – inspire reading and writing with these board games: Apples to Apples, Apples to Apples Jr, Blurt, Zingo Sight Words, Super Why ABC Letter Game (for young children), Boggle Jr, Scrabble Boggle Game, Bananagrams, and Wordical.
Stuff Their Stockings With … a bookmark, a cool pen, a writing journal, a led book light, Cranium Zigity, Quiddler, Mad Libs, page clips, or a personalized mug with hot chocolate (great to drink while snuggled up with a good book).
Have a wonderful Winter Break!
Lea Kulmatycki, Literacy Support
INFORMATION
Ardrossan Gets Straight A's!
Ardrossan Elementary, along with three other schools participated in our annual Elk Island Public Schools Results Review on November 23, 2018. The Results Review is an opportunity to celebrate our successes as a school in areas of student achievement, citizenship, safe and caring schools, and parent involvement. 
Once again, we had much to celebrate! Our results from the 2017-18 school year were phenomenal with continued strong Provincial Achievement Test (PAT) results, improvements in literacy and numeracy, and students reporting feeling safe and cared for on the Accountability Pillar Survey. 
Thank you to our School Council President, JP Grebenc, for attending this event in order to represent our parent community. 
For more information about our results as well as our goals moving forward, take a peek at our new School Education Plan (SEP). Together, we are ensuring that there is success for all!
Your Voice Matters - How Can Parents Get Involved in Decisions at School?
We believe that parents are important partners in supporting learning and growth at school. Parents are sending us their best and their brightest and we are grateful to them for their support and insight. 
We have noticed that sometimes parents are not sure how they can get involved at school. Here are some great ways that you can be involved.
Stay Informed by:
reading the website
following us on Twitter @ArdrossanElem 
reading the Monthly Update (Gold star to you for reading this one right now!)
reading classroom communications (agendas, emails, SeeSaw, Remind, eTeacher pages, etc.)
reading the meeting minutes from one of our parent groups posted on our website
Share Your Thoughts by:
attending one of our active parent groups like School Council, Canadian Parents for French (CPF), Ardrossan Elementary Parent Support Association (AEPSA) or Hot Lunch
emailing or calling the school administration - your suggestions are welcomed
contacting the classroom teacher
Get Involved by:
attending a parent group meeting (posted on our online calendar)
delivering Hot Lunch
attending special events like monthly assemblies or Family Math Night
volunteering in your child's classroom
volunteering for a special event at school like Carnaval, Les Rendez-vous de la francophonie, Sports Day, etc.
attending student conferences or Demonstrations of Learning
volunteering as a Wee Read volunteer
helping out with a school club like Games Club, Cute Things Club, or Lego Club over a lunch hour
We want you to know that you are important at our school. Your voice matters!
Staying Safe at School
School Discipline - What happens when students are referred to the office?
Did you know that we have incredibly well-behaved students at Ardrossan? It is true! Our students demonstrate many problem-solving and conflict resolution skills so that we have very few office referrals. This is due to the hard work of all members of our school community as well as the leadership skills that are being taught through our Leader in Me program.
In the event that students are referred to the office we follow a student-centered process:
Investigate the situation - talk to students, witnesses and watch video footage if available.
Determine what students need to learn in order to keep them safe and responsible.
Teach students skills to help them avoid making the same mistakes.
Help students take responsibility for their actions and rebuild relationships with people they have hurt through: apologies, community service, natural consequences that will repair the damage.
Communicate with all of the families that were affected by the situation.
Our goal is teach children that mistakes are a part of life and that they have control over what they say, do and feel when faced with challenging situations. We want them to live Habit 1: Be Proactive!
Bus Safety - How are kids safe on the bus?
If students experience challenges on the bus, they can get help by:
asking the person to stop 
reporting the problem to the bus driver
If the problem continues they can:
report the problem to Mme Hewitt, Mrs. Whetstone or Mme Devigne
report the problem to their teacher
When the school becomes aware of the problem, we follow our discipline procedures as outlined above. Together we can help keep all students safe on the bus.
Student Safety at Pick Up Time
You are important partners in keeping kids safe! Did you know that the provincial speed limit in a parking lot is between 15 - 20 km per hour? 
Please help us to ensure student safety by following the traffic flow of our parking lot. Please remember that it is one way and that you cannot enter our parking lot from the Ardrossan Junior Senior parking lot! Please help us by not stopping in front of the No Parking signs as that area is the fire lane.
Please have a look at our traffic flow map to make sure you know how to enter, where you can drop off students and where you can park. Students safety is everyone's responsibility.
Merry Christmas and Happy New Year from the Board of Trustees
As the holiday season approaches and we prepare for the winter break, I want to take the opportunity to extend warm wishes to all our students, staff and families on behalf of the Elk Island Public Schools Board of Trustees. We hope you and your loved ones have a wonderful and safe Christmas season, and a new year filled with joy.
We look forward to seeing everyone back at school on Monday, Jan. 7, 2019.
Thank you and best wishes,
Trina Boymook, EIPS Board Chair
Returning Student Registration - Elk Island Public Schools 2019-20 Registration Drive
All student registrations for the 2019-20 school year—including kindergarten registration, returning student registration and new student registration—will take place online commencing on Feb. 1, 2019.
Kindergarten: Your child is eligible to enrol in kindergarten if he/she will be five years old on or before December 31, 2019.
Returning Students: If your child will be returning to an EIPS school next fall, this is when you will confirm that registration and select your requested school—whether your child will attend your designated school or will request a non-designated school, your family will complete this process.
New Students: Students new to EIPS for the 2019-20 school year will also complete their registration at this time.
All registration forms will be online for families to complete. Additional information, including a list of schools with open and closed boundaries, will be posted on the Division website in the new year.
Winter Break
Ardrossan Elementary will close for the winter break at the end of the day on Dec. 21, 2018 and will reopen on Jan. 7, 2019. During this time, if you have any school-related questions or concerns, contact Central Services at Elk Island Public Schools.
EIPS Central Services Winter Break Hours
Closed                  December 22-January 1
Open                    January 2-4, 8:30 a.m. to 4:30 p.m.
*for location and contact information visit www.eips.ca.
From everyone at Elk Island Public Schools, we wish all of you a happy holiday season and a wonderful New Year.
Healthy Tips and Treats for the Holiday Season
Breakfast for Learning, a grant sponsor of the Hot Lunch Program, has published some excellent ideas for healthy snacking during the holidays. Check out Healthy Tips and Treats for the Holiday Season.
Lost and Found Items
Thank you for labelling your child's hats, mitts, shoes, boots, crayon boxes, coats, sweaters, etc. It is much easier to make sure that lost items are returned to the owner when they are labeled. Please check Lost and Found by the Music Room. All items left after December 21 will be donated to a local charity.
Parents Make the Difference
The online magazine, Parents Make the Difference, provides parents with advice and suggestions regarding supporting children at home and within the school environment to be capable learners and caring citizens. Please check out December topics that may be of interest to you: 
Working Together for Success for All