School News
MONTHLY UPDATE: April 2019
Posted on

April 5th, 2019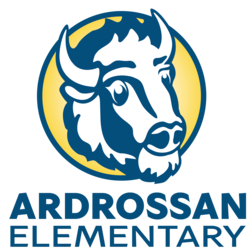 The long anticipated spring has finally arrived greeted by a very happy school community. In fact, one of the most beautiful days so far, was the outstanding Carnaval organized and sponsored by the Ardrossan Chapter of Canadian Parents for French and their legion of volunteers including AJS Gr. 9 students!
In a month where we honour our countless volunteers, we acknowledge the incredible work of our parents, guardians and Wee Read Volunteers who donate hours reading with our students. We thank our ever present Lunch Bunch staff and their many parents who deliver lunch to classrooms every Monday through Thursday! To those parents who bring their talents and expertise to our classrooms and clubs - we thank you! We value the tremendous work done by the School Council and the AEPSA (Ardossan Elementary Parent Support Association). Their support, advice and promotion of Ardrossan Elementary allows Great to Happen Here. Without question, it takes a community of parents and guardians that embrace our students and staff so we can be the best we can be!
How do we say thank you? Join us as we synergize together while celebrating volunteers on Friday, April 26 at 10:30 a.m. After the assembly, join us in the Gathering Area for light refreshments.
Not only are we highlighting our multiple volunteers but we will also acknowledge and say farewell to the old Ardrossan school. Share the date and time with your families, neighbours, former students and staff.  It will be truly an event to remember as we say farewell to the old Ardrossan Elementary building. 
Please join us so we can thank you in person and remember as an Ardrossan family!
ACTION
Canadian Parents for French April 9th 10:30 a.m. in the Conference Room
School Council April 9th 6:30 p.m. in the Gathering Area
Family Crazy Sock Dance! Friday, April 12 6:30 - 8:30 p.m.
New Bus App
Gearing Up for Kindergarten
Grade 4-6 Health Education
Superhero Day - Thursday, April 11 (Mom, where's my cape?)
Western Day - Wednesday, April 17 (Find that cowboy hat!)
Yearbook Sales beginning soon!
OPPORTUNITY
Volunteer Fair - Sunday, April 7th
Synergize! Celebrating Volunteers and Farewell to the Old Ardrossan School - Friday, April 26, 2019
Volunteers Make Hearts Smile - Literacy in Action
INFORMATION
Tidbits from the Lunch Bunch
Watch for Thin Ice
Parents Make the Difference
Nutrition Resources
Hats on for Mental Health - May 1
Les Petits Soleils - Ardrossan's French Playschool
Action
Canadian Parents for French (CPF) & School Council Meeting 
Please join us on April 9 for Canadian Parents for French meeting (10:30 - 11:30 a.m.) and School Council meeting (6:30 - 7:30 p.m.)  to discuss upcoming events.
Did you know that even if you are not a parent of a student in French Immersion, you are still able to join - only 60.00 for 3 years and 80% of your registration fee comes back to the Ardrossan Chapter? That's how fabulous events like Carnaval happen - because dedicated parents and supporters of French Immersion volunteer and sponsor this event where all Ardrossan students benefit from learning about French culture. Click here and join: Canadian Parents for French Registration
Crazy Sock Dance Friday, April 12, 2019 - Ardrossan Elementary Gym
Please join us for the first ever family dance!  Wear your most colourful and crazy socks and be prepared for lots of prizes and tons of dancing fun. Only $10 a family! Tickets at the door. Don't forget to bring your cash with you to buy items from the concession, to participate in a raffle, and to make song requests. Proceeds from the concession, raffle, and requests go to the playground replacement fund!
Students from the Cute Things Club will also be selling "cute" items in order to raise money for Hope Mission. The Cute Things Club thanks AEPSA for funding their club and for supporting them in their goal to care for the homeless people in our community.
New Bus Status App Available
A new version of the Bus Status app is now available. If you haven't already, we encourage all families to download the new version from the App Store or Google Play. After downloading, make sure to delete the older version from your device.
All information from the Division Bus Status page is currently pushing out to both the old and new versions of the app, so you'll receive updates regardless of the app you're using. However, at the end of the school year, the old version of the app will no longer work. Families will need to ensure they've downloaded the new version of the app to receive updates about bus delays and cancellations in 2019-20.
The changes aren't specifically related to the overall functionality of the app—it's much the same as the current version. What is changing is it's now one unified app available for download rather than each school division having a separate app. The first time you open the new app, it will prompt you to select Elk Island Public Schools from the list of school divisions. After that, you will use the app the same way you have in the past. You can reselect your favourite routes and update them as needed. You'll also continue to receive push notifications about delays and cancellations the same way you do now.
Gearing up for Kindergarten
Do you have a child registered in kindergarten next year? If so, make sure to attend our upcoming PARENT Kindergarten Information Night on May 30, 2019 at 6:00 p.m.:
tour the school;
meet the teachers;
gain insight on play-based learning; and
see what a typical day looks like.
Elk Island Public Schools has also put together an online toolkit to make the transition to school as smooth as possible. The kit includes information about registration, important dates, programming options, what to expect, eligibility, how to find your designated school, transportation and more. Find it by visiting www.eips.ca/programs-services/kindergarten.
Additional information regarding Ardrossan Elementary's kindergarten program, is available on our school website at Ardrossan Kindergarten Information .
NOTE: To be eligible to attend kindergarten in the 2019-20 school year, children must be five years of age on or before Dec. 31, 2019.
Grade 4-6 Health Education
Spring is the time that students in Grades 4 through 6 will be receiving instruction regarding "human sexuality", a required element in the "personal health" section of the Health curriculum.  The Grade Four lesson will focus on puberty, the Grade Five lesson will identify the basic components of the human reproduction system and the Grade Six lesson will focus on the stages and factors that can affect human development from conception to birth.
If you DO NOT wish your child to receive instruction in human sexuality, please send a note to school.  All students will receive instruction unless we are otherwise notified. Teachers have been asked to have each student record the exact date lessons will take place in their classroom, in their agenda. If a child does not have an agenda at school, the information will be sent home on a separate piece of paper.  Please contact your child's teacher if you would like further information. 
Personal safety lessons have been interwoven throughout our curriculum and Health lessons.  These lessons primarily focus on anti-bullying strategies, making healthy life choices and peer relationships.  Technology (online safety & digital citizenship) have also been addressed at many grade levels in Division 2. 
Yearbook Sales - Beginning Next Week
This year, students designed the covers. Congratulations to Deneaka (6B) our front cover winner, Chloe (4B) and Myla (4C) whose art work is featured on the back cover. Other artwork by Reese (6B), Elyse and Talyn (5A), Charlee-Rae (4C) and Kally (3C) is also featured on the back cover. Congratulations artists! Well Done!  Check out your child's backpack next week. The order form for the 2018-19 yearbook will be available. Only $17.50. Huge thanks and appreciation to Mrs. Shackleton (editor extraordinaire) and Mrs. Kulmatycki (art competition adjudicator). 
Opportunity
Volunteer Fair: Self-Care Sunday
Volunteer Strathcona and its National Volunteer Week sponsor Imperial Oil want to recognize the value and importance of all volunteers within the community—including school volunteers who support the school or Division by helping with coaching, fundraising, school council, classroom helpers, field trips, graduation planning groups, student volunteers and so much more. National Volunteer Week takes place April 7-13, and Volunteer Strathcona is celebrating all local volunteers with the gift of self-care through their upcoming event, Self-Care Sunday. The event is free, open to all volunteers in Strathcona County and will focus on educating individuals on the importance of taking the time to care for themselves. Check it out - Invitation.
What:   Self-Care Sunday
When:  Sunday, April 7, 2019  1-5 p.m.
Where: Sherwood Park Log Cabin  50 Spruce Avenue
Celebrating Volunteers and Habit 6: Synergize
Synergizing is all about teamwork, valuing our differences and finding better solutions when we work together. Our volunteers are a critical part of our synergy in the school. What better way to acknowledge their enormous contributions to our community then joining us on Friday, April 26 at 10:30 a.m. for our Volunteer Appreciation Event. We are in the unique position to also say Farewell to the old Ardrossan Elementary. All are invited after the assembly for light refreshments in the Gathering Area!
Volunteers make hearts smile - Literacy in Action
April is Volunteer Appreciation Month. This is a perfect time to recognize and say thank you to the many volunteers who have dedicated countless hours sharing the joy of reading, engaging our students in stretching their imaginations, and helping them grow as readers.
Thank you to our community volunteers! You enrich our students' lives by sharing your love for reading and supporting our students in the journey to become excellent readers. Every week our Wee Read volunteers share the magic of stories with our ECS and Grade 1 students. This program not only promotes interest in reading, but also helps students develop the pre-reading skills necessary for them to become good readers. Each week, Wee Read volunteers read and play language learning games to help their reading friends develop these essential reading skills. Grade 2 to Grade 6 students work with a dedicated group of volunteers committed to helping them develop their reading skills. Volunteers work with individual and small groups on reading comprehension, helping these students develop strategies to better understand what they read so they can delight in discovering new things. Volunteers also work with students three times a week on Precision Reading. Confidence as a reader blossoms as students develop fluency and automaticity in decoding words and recognizing sight words. Our community volunteers support the reading growth of over 200 students!
Thank you to our partner in literacy, Ardrossan Junior/Senior High! Mr. Coates' Grade 9 English Honours students are Wee Read volunteers. For eight weeks, they are joining their reading friends, engaging in stories to develop pre-reading skills. Their help means that every child in ECS and Grade 1 will have participated in Wee Read by the end of May. What an awesome achievement! M. Laliberté's Grade 8 French Immersion classes have partnered with Mme Fafard's Grade 3 French Immersion class. Once a week, these students join the Grade 3's and coach them on reading skills and strategies. We are also fortunate to have two Senior High Work Experience students at our school from February to June. These two caring young ladies work daily with Division 1 and 2 students, sharing the magic of the written word. Their focus is reading comprehension strategies. What awesome partnerships!
Thank you to our Grade 4 and Grade 5 Precision Reading Leaders! You're never too young to volunteer! This group of 37 Bison leaders works with our Division 1 students on decoding strategies and sight word recognition. Their mission is to help Division 1 students become fluent and confident readers!
Thank you to Ms. Thompson and her Learning Commons Leaders! They are instrumental in the smooth running of our special literary activities such as Global Read Aloud, March Book Madness, and our upcoming Poem in My Pocket, celebrating Poetry Month.
Our volunteers enrich our students' reading experiences and support their efforts in developing their reading skills. Thank you for all you do!
Lea Kulmatycki, Literacy Support
"Encouragement is oxygen to the soul." - George M. Adams
A big THANK YOU to all of our volunteers
On behalf of the Board of Trustees at Elk Island Public Schools (EIPS), thank you to all of our volunteers within the Division who help make our schools and programs successful. Whether it's assisting at an athletic competition, co-ordinating a fundraising initiative or helping at a school event, the impact you make within our school community is profound. Together, we've created a relationship that allows us to rally behind one clear vision: Providing exceptional education for all students.
In recognition of National Volunteer Week, which runs April 7-13, EIPS extends a heartfelt thank you to the hundreds of volunteers across EIPS who offer their knowledge and dedicate countless hours in our schools.  
Trina Boymook
Chair, Board of Trustees
Information
Tidbits from the Lunch Box
Thank you for the ongoing support of our Hot Lunch Program. 
Our parent volunteers have been such an amazing part of our program! We could not get all those meals out without your help. Please join us at the Volunteer Appreciation Event on Friday April 26 at 10:30 a.m.
Our next Board meeting will be at May 27. If you are looking for a new way to volunteer we would love new members with fresh new ideas! or you can email us at info@aeslunchbox.com
We are hosting a Little Caesar Pizza Kit Fundraiser in May (June 5th pick up); watch for info to come home with your kids later this month.
Important Dates
April 15- May Menu open for ordering
April 25 - May Menu Closes (No Late Payments will be accepted)
Friday April 26th -  Easter Themed Rice Krispie Treat
Watch for Thin Ice
Elk Island Public Schools remind families to be cognizant of thin ice this time of year. Depending on changing temperatures, ice can form and melt to varying degrees on outdoor bodies of water. Please remind your children about the dangers of thin ice, to obey all posted signs and to take the proper care to remain a safe distance from the ice. For more information about ice safety, visit the Canadian Red Cross.
Did you know?
The way ice forms affects the way it melts in spring. Minerals in the water actually become concentrated in vertical veins throughout the ice as it freezes. Warm temperatures cause these veins to melt more quickly and weaken the ice, a process known as candling.
Parents Make the Difference
Check out these timely articles!
Nutrition Month Resource
As part of Nutrition Month, Alberta Health Services has released a new poster series to support healthy eating at school. The Healthy Eating Poster series is designed to promote healthy choices in elementary aged students across Alberta. Topics include:
Eat Breakfast Every Day! 
Choose Healthy Drinks
Pack/Make/Eat a Healthy Lunch
Try New Foods 
Choose Healthy Snacks/Snack on Vegetables and Fruits
Hats On for Mental Health
Students and Staff are encouraged to wear a hat on Wednesday, May 1 in support of raising awareness for mental health of children and youth.  Healthy Minds, Bright Futures.  Hats On!  Please visit Can we talk? for more information.
Les Petits Amis - Ardrossan's French Preschool
Check out Ardrossan's own French preschool program at Les Petits Amis.